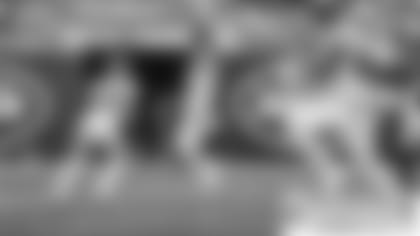 Jets QB Zach Wilson was nominated for the NFL's Pepsi Zero Sugar Rookie of the Week Award after helping lead the Green & White to a 27-24 overtime victory over the Titans in Week 4.
During his first NFL win, Wilson was 21 of 34 for 297 yards and 2 TDs and made a series of huge plays down the stretch to help seal the victory. Jets fans can vote for Wilson on NFL.com/voting/rookies.
The Jets were encouraged with Wilson's decision-making throughout the game.
Head coach Robert Saleh said: "What gets lost in the excitement of the explosive plays that he generated was I think it was 14 of his 18 completions were [thrown] for 7 yards or less," Saleh said. "He didn't get hit, there were balls getting in and out of his hands. He had, I don't have a QB rating in front of me or anything, but I know he was very efficient, and he can play that style of ball. And there was even more to be had in those situations, as we're all aware that third down to close out the game, the shallow cross to [Ryan Griffin] to close out the game, there are opportunities for even more, which he'll get better at.
"But at the same time, everyone saw the creativity and the off-schedule stuff that is getting all the attention, but that represented four of his completions. He's in really good head space, his mindset's in the right spot in terms of he knows he can be even better and those are things he'll continue to grow on."
Wilson's big finish began with the Jets down 9-7 in third stanza. On a third-and-6 play from his 32, Wilson faced pressure up the middle and sprinted to his right with Titans DL Denico Autry in heavy pursuit. No matter, Wilson showcased his remarkable athleticism and arm strength with a perfect 54-yard throw up the sideline to WR Keelan Cole. That strike set up Matt Ammendola's 27-yard chip shot and the Jets had their first lead of the season, 10-9, with seconds left in the third.
After the Titans took a 17-10 lead, Wilson got a 43-yard chunk courtesy of a pass interference penalty on a ball intended for Corey Davis. On the same possession, he averted disaster and turned a play into treasure, recovering his own bobbled snap, bouncing around in the pocket and hit Jamison Crowder for 29 yards. After a Ty Johnson run, Wilson sprinted right and connected to Crowder TD, tying the score at 17.
Wilson delivered the Jets' their second lead, rolling right and calling his shot. He calmly directed Davis to head upfield and then he unleashed a 53-yard scoring toss to the former Titans wideout.
"We ran our naked keeper to the right," Wilson said. "Corey was not part of the play. But he showed up across the field. The corner played Keelan on the sideline. The safety is running on Corey's butt across the field and there's no one deep. I pushed Corey down the field. We had a chance for a big play. That's part of my game, just reacting."
In OT, Wilson threw a beautiful touch ball to Keelan Cole for a 29-yard gain on 3rd-and-2 that put the Jets on the Titans' 27. Then he went to Crowder, who led the Green & White with 7 receptions (61 yards) in his season debut, for yet another third-down conversion. Ammendola's chip shot gave the Green & White its finals points and Wilson was a winner when Randy Bullock's 46-yard FG attempt in overtime misfired left.
"I wouldn't say we've fully arrived," Wilson said. "This is just another puzzle piece of where I want to get. Now we have to stack the blocks. This was a step in the right direction."