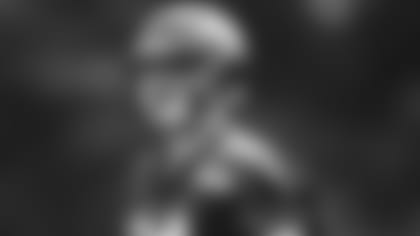 The expectations are high and Sam Darnold would have it no other way. Despite learning his third offense in three years, the pro sophomore aims to be flawless every time he steps on the field.
"It's been awesome. Practices under Coach Gase have been high energy and he's definitely a perfectionist," Darnold said this spring. "I am as well and a lot of guys on the team are and that's how our offense is going to be. We expect nothing less than perfection and I think everyone kind of gets a feel of that."
With Adam Gase and Greg Williams moving their respective chess pieces during OTAs and minicamp, Jets practices throughout the spring were highly-competitive sessions. Pace was stressed on both sides and Darnold was ready to correct any mistakes that were made along the way.
"Even during the OTA period, there is that sense of urgency like, 'Hey, man. We're going.' If something isn't right, we're going to run it back," Darnold said. "If we don't have time to run it back and we have to move on in practice, we're going to watch it on tape, get everyone together and run through it. There is definitely a sense of urgency to get better and it's really fun."
It's not lost on the 22-year-old Darnold that he is being paid to play a game he loves. The 41-year-old Gase, who has mentored a long list of quarterbacks including Peyton Manning and Jay Cutler, is equally passionate about the sport and is tailoring his offensive system to match the team's personnel.
"That process is really fun and it's very serious," Darnold said. "We take our job super seriously, but at the same time, we can have fun as well. As everyone says, this is a kid's game at the end of the day. It just so happens to be our professions as well, so it's really fun to have that mentality. But when it's go-time, there are not a whole lot of coaches that are better than Coach Gase in terms of getting everyone on the same page and feeling a sense of urgency in terms of getting our offense right."
Gase, who has been complimentary of Darnold's arm strength and movement skills, has also raved about his signal-caller's work ethic and studious approach.
"Me and Coach Gase, we see things in a very simple way. We're not going to try to overlook things and we just want everything to be simple," Darnold said. "We see things very similarly in that regard. What I mean by that is if we're trying to do too much out there, we'll be the first ones to notice and we'll make it simple because we just want to go fast and want everyone to be on the same page."
In addition to Gase, Darnold will continue to pick up the offense from OC/QB coach Dowell Loggains. A former college quarterback at Arkansas, Loggains served as Gase's QB coach with the Bears in 2015 before joining him in Miami where he was the 'Fins OC last season. Gase will continue to call the plays, but Loggains is his most trusted offensive advisor and will be Darnold's OC/QB coach.
"When you make things simple, sometimes that's a lot better. And when all 11 guys are doing the same thing and all in cohesion together, it's amazing what you can do offensively," Darnold said. "So, when we do that, there shouldn't be a defense that can stop us.
"It's really exciting to be able to think the same as your offensive coordinator and your head coach. Dowell (Loggains) has got a lot of the same stuff, too. It's really fun. It's really cool to step into a room and all be able to learn together. Our whole offense is going to ride with us and we're going to try to take this thing as far as we can and I think that'll be pretty far."