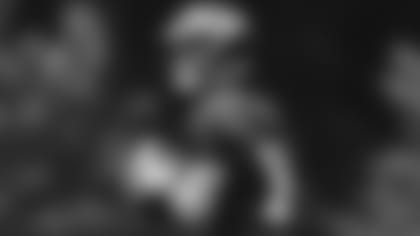 Sam Darnold may just be 22-years-old, but at heart, he's much older and wiser. Since donning the green and white last year, the young quarterback has been consistently praised for both his work ethic and his commitment to the game. He displays the kind of dedication that reminds you of someone who's been playing football much longer.
"It's everything in the way he works. He's here early in the morning and he stays after. He probably doesn't leave this building until six or seven at night," said wide receivers coach Shawn Jefferson on what he's observed in Darnold over the spring. "I've been so impressed with this kid's work ethic, and the way that he attacks everything. It's just been awesome to see a young kid like that. It's almost like he's been here before. He's a young guy but he has a lot of veteran attributes to himself: how he prepares, how he studies, stuff like that. I'm so excited for him going forward."
It's not the first time Darnold has been applauded for his approach to the job and the challenges that come with it. Entering his second professional season, the 6'3", 225-pound gunslinger is already learning another new offense, which is a task that brings its own trials. But it hasn't slowed him down.
"I've been really impressed with him and with his ability to pick up what we've given him," said offensive coordinator Dowell Loggains. "Just the way he's coming to work, and really the leadership skills that you've seen. Helping him to become another coach on this field has been impressive to this point."
In a short period of time Darnold has managed to take responsibility of his role and embrace it with full force. And as far as his coaches and his teammates go, game recognizes game.
"When you walk into the building and you see that guy, everybody knows," Jefferson said. "Players know players. So, the moment you watch him drop back and throw that ball, you're like, 'Okay, he's a real dude.' We've got a real dude in this building, man. I'm excited about it."