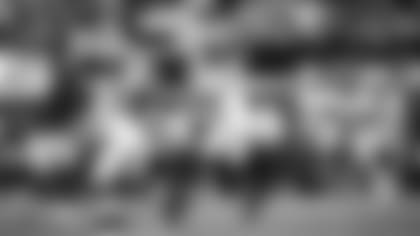 Sam Darnold couldn't have scripted much better. After having a great start to his second professional training camp, Darnold came out in the Jets' first drive of the preseason against their cross-town rivals and led the Green & White on a five-play, 75-yard scoring march that culminated with a 3-yard scoring toss to wideout Jamison Crowder.
"It was fun out there for the first drive," Darnold said. "Hopefully it gave Jets fans a little taste of what the season is going to be like."
The second-year passer showcased his pocket presence, patience and vision in his brief stint that resulted in a pair of chunk gains for the Green & White. On a third-and-6, he stepped up from the shotgun towards the line of scrimmage and allowed tight end Chris Herndon to break free in the middle of the field for a gain of 32. Herndon was the last man through in a bunch formation, slipping by Giants defenders before the pitch-and-catch.
"I felt like no one was around me and I just felt a huge gap in the pocket open up," Darnold said. "I was able to find Chris over the middle and he obviously got a big gain."
On the ensuing snap, Darnold scanned the field and waited for Crowder to put a move on a linebacker and get some room. He got him the ball and Crowder turned up the field for a 28-yard gain.
Three plays later, Jets head coach/offensive playcaller Adam Gase had Darnold sprint right on third-and-goal. With the signal-caller on the move, Quincy Enunwa created space for Crowder with a rub/pick and Darnold released the ball at the proper time. Crowder hauled it in, crossed the pylon and Darnold's night was done.
"I loved the tempo they played with. Sam did a good job extending plays on third down, guys were in the right spot," Gase said of the first-team offense. "The communication was good, I thought the pocket looked good. It was fun calling it."
The possession actually started with some danger. Safety Jabrill Peppers jumped a pass intended for Enunwa and nearly came down with an acrobatic interception.
"I thought I could have squeezed it in there. I just threw it a little bit inside. It would have been a tough catch — the defender may have been close to it," Darnold said. "I thought if I put it a little bit more outside — Quincy would have been able to catch it. But that was really dangerous. Again first pass under Coach Gase was almost a pick, almost a pick-six again. Really trying to limit those, but it was a close call and I thought we finished the drive well."
But it was clear sailing for Darnold and the first-team offense from there as he finished 4-of-5 for 68 yards with a perfect passer rating. Darnold operated the controls without two players who will figure prominently this season in RB Le'Veon Bell and veteran center Ryan Kalil.
"He's been good the entire training camp," Gase said of his quarterback. "It's different when it's live, when he can escape the pocket and they have to actually bring him down and he can extend plays. He's really good in the huddle, he calms all the rest of those guys down when they get into the game. He just knows how to operate really well as a quarterback."
See Top Images from Postgame at MetLife Stadium