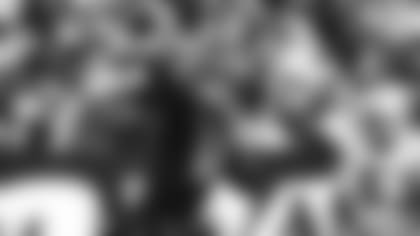 It has been a short week as the Jets prepare for the challenging, prime-time matchup with the Baltimore Ravens (11-2) on Thursday.
"I think the biggest thing is we just have to get our bodies right," quarterback Sam Darnold said. "We have to recover and do everything we need to make sure we are feeling good for Thursday because it is a short week. We just have to get going on these guys. We have to watch our tape and make sure that we're well-prepared to go in there and execute the way that we're supposed to."
With two days of walkthroughs this week and a travel day on Wednesday, it's been a quick turnaround for the Jets. With Sunday's win over the Dolphins, the Jets (5-8) have won four out of their last five games. A recurring theme among players and coaches has been the execution in the game's three phases.
"We're executing a lot better than we did in the beginning of the season," Darnold said. "I think everyone in the building is starting to get on the same page in terms of communication, and just the offense in general. In the first year in an offense, there can be some different things that can give us some trouble, but I feel like right now we are in a really good groove. The second half isn't how we planned from an offensive perspective because we have to be a lot better, but just as a whole I feel like we're doing a lot better and we're executing a lot more than we did the first half of the season."
Through Weeks 10-14, the Green & White's offense showed marked improvement, outscoring opponents, 124-68, in the four victories, while amassing more than 1,700 net yards of offense over the five games, and only committing two turnovers. On defense, Gregg Williams' injury-beset unit elevated its game, recording 16 sacks, 3 INT, 4 FF and 3 FR. Now the Jets face QB Lamar Jackson and the rampant Ravens offense.
"They're a good team," Darnold said. "They've won a lot of football games this year, but for us it's about executing and doing what we can to make sure that we do that to the best of our abilities. If we go out there and play our style of ball, we'll execute and make things happen."
The Ravens' offense is hot, leading the league in rushing yards per game (200.9) and per play (5.46), while standing second in the league in total yards per game (408.2). The Jets' defense, however, may have an answer to Baltimore's top rushers -- Jackson and RB Mark Ingram II. New York's defense ranks at the top of the league in rushing yards allowed per play (3.03) and is second in the league in rushing yards allowed per game (78.8).
"Ultimately it doesn't matter who we are playing," Darnold said. "We just have to do our job every single game and every time we go out there and play, and really every possession. We just have to go out there and play and make the most of it, but we have to execute better."