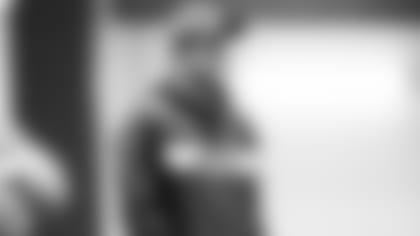 Despite not practicing Monday because of a strained right foot he suffered two weeks ago, Jets quarterback Sam Darnold is getting healthier.
"The foot is really good. I feel really good," Darnold said in reference to the right foot ailment he suffered during a 13-6 loss to the Dolphins on Nov. 4. "Like I said last week, just following protocol right now, but it feels really good. I've been walking around on it fine. It's just stable progressions throughout the week I think."
Leading up to the Jets' Week 10 matchup against the Bills, the rookie signal caller watched practice in street clothes and a boot. Last Monday, Jets head coach Todd Bowles told reporters Darnold no longer needed the boot and today, the No. 3 overall pick said he's been jogging without pain.
"If I can, I would love to be out there," the USC product said of the possibility of returning to practice later this week. "But right now, I'm just following the progressions and following the protocol. So in terms of that, I think on Wednesday, (head trainer John Mellody) is talking to Coach Bowles about the injuries and then I'm just going to do what J-Mel tells me to do."
The 6'3", 225-pounder spent some of his time off reflecting on his first professional action. Through nine games as a starter, Darnold feels like he has progressed but referred to his last performance in Miami as a "bump in the road." Completing 54% of his passes against the Dolphins and throwing for 229 yards, Darnold was victimized by a career-high four interceptions. Over the Jets' final six games, Darnold wants to help the Green & White tally wins.
"That's the ultimate goal, especially where we're at right now," he said. "We just want to win every single game and at the end of the year we will look up and see what happens, see where we are in the division and in the standings. We've still got a long season ahead of us. We have six games, so I think we have a chance to win some ball games."
When asked if the injury has been good for him in the sense that it's allowed him time to catch his breath, Darnold's response was, "No. I want to be out there." However, he benefited watching how 16-year veteran Josh McCown conducted practice and went through his game-week routine.
The 21-year-old Darnold is excited about the potential opportunity to play against the Patriots Sunday and go toe-to-toe against future Hall of Fame quarterback Tom Brady, who is 20 years older than the rookie.
"I think the idea of going up against him and the Patriots, Coach Belichick, all those guys, it's a cool thing," he said. "Especially with me growing up in the era where they really controlled the whole NFL for the most part. So it's really cool to be able to have a chance to go up against them if I get the opportunity this weekend."
Top Snapshots from the First Practice of New England Week