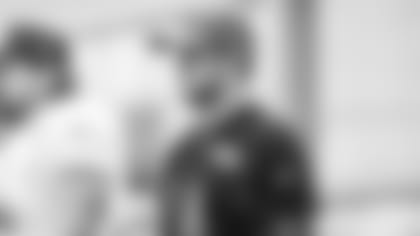 Jets rookie QB Sam Darnold was on the practice field Wednesday, but the rookie signal caller had a boot on his right foot and was a non-participant during the time the media is allowed to watch practice. Darnold, who was without his helmet and not in pads, was wearing a green baseball cap and his black Salute the Service practice jersey along with jogging pants.
Darnold, who has started the team's first nine games, was sacked four times and hit seven times during Sunday's 13-6 loss to the Dolphins.
"I feel fine," Darnold said during a Monday conference call. "Some bumps and some bruises, but everything is good."
If Darnold is unable to go Sunday vs. the Bills, Josh McCown would get his first start of the 2018 season. McCown had a career year in 2017, connecting on 67.3% of his passes for 2,926 yards with 18 touchdowns and nine interceptions. Head coach Todd Bowles is expected to address Darnold's injury following practice.