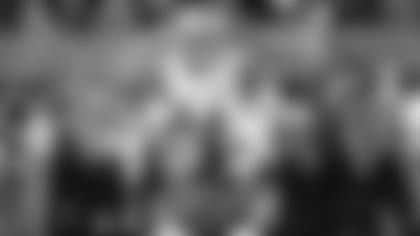 The Jets passing game struggled to lift off the ground in the 21-17 loss to the Browns, and rookie quarterback Sam Darnold put the blame on his shoulders.
"There were a couple plays," Darnold said regarding if the team lost its composure. "But from my point of view, I just have to play better. It's as simple as that. It's not acceptable the way that I played tonight and I know that, but also take it like a man. I feel like I'm responsible for some of the stagnant offense that we had. I just have to play better. That's really it. I have to find completions and continue to do what I've been doing."
Darnold and the Jets found the end zone twice in the second quarter and got out to a 14-0 lead after a pair of Isaiah Crowell scoring runs. The Green & White rushed for 107 yards Thursday night, but Darnold and the passing game couldn't find a groove. The rookie signal caller completed 15 of his 31 passes for 161 yards, no touchdowns and two interceptions, both of which came in the final two minutes of the game as the Jets were trying to surmount a comeback.
"I thought he battled," head coach Todd Bowles said. "Obviously, the two interceptions at the end of the ball game when they knew we were going to pass and the game was on the line – I don't really look at that. I thought he battled. I thought he took care of the football for the most part. He gave us a chance and we have to help him out more."
Darnold said he thought he did pretty well handling a Browns defense led by coordinator Gregg Williams, who is known to dial up exotic plays that could easily confuse any quarterback in the NFL let alone a 21-year-old. Cleveland forced three turnovers and defensive end Myles Garrett sacked Darnold twice. Moving forward, Darnold said he can improve on being more decisive.
"I felt like sometimes I was hanging in there and looking at one guy, waiting for him to get open," he said. "I just have to go and move on to my next progression and move on from there."
While it seemed the Jets were in the driver's seat heading into intermission, the tide in FirstEnergy Stadium shifted when Browns rookie quarterback Baker Mayfield made his regular-season debut with 1:42 remaining in the first half. Mayfield relieved the injured Tyrod Taylor and never looked back. Thursday's game marked the first of many duels between Mayfield, the No. 1 overall selection in April's draft, and Darnold, who was drafted two picks later.
"Baker is a great competitor and I loved playing against him tonight," Darnold said. "Obviously, you wish you could win those games, but he's a great competitor and going to play in this league for a while. I'm looking forward for every single week, but Baker is a great competitor and every time I get a chance to play him, I'll be looking forward to it."