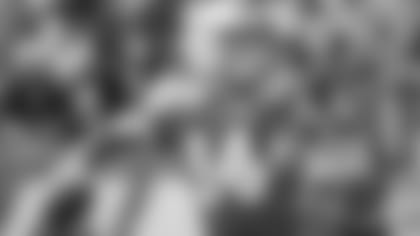 It wasn't expected to be easy. Jets rookie quarterback Sam Darnold was without his top target in Quincy Enunwa and the team had released an injured Terrelle Pryor less than 24 hours before kickoff. The Vikings were a formidable defense who were the NFL's best unit on third down. If that wasn't enough, the Jersey winds were flying around with great force and one of the team's best offensive weapons — RB Bilal Powell — exited with a neck injury.
The ominous foreshadowing proved to be accurate in the Jets' 37-17 loss to the Vikings Sunday at MetLife Stadium. Darnold completed on just 40% of his career-high 42 pass attempts and finished with a passer rating of 34.4. He was intercepted three times as the Green & White couldn't figure out the answers and fell to 3-4 overall.
"He's still growing, he's still learning each week," said WR Jermaine Kearse, who did not have a catch after tying a career high with nine grabs in Week 6 against the Colts, of Darnold. "He's getting better each week. Adversity is part of everything. It's 100 percent going to show up and how we deal with it."
Darnold and the Jets offense, who had their way against the Broncos and the Colts in the two previous games of this homestand, found the going tough all afternoon against the Vikings. Sans an eight-play drive in the second quarter that culminated on Darnold's 12-yard scoring pass to tight end Chris Herndon, the Jets had little prolonged success with the football.
The Vikings took away the offense's ground attack (24-71-3.0) while keeping their safeties out of the box and often put the home club in third-and-longs. The result was a busy day for punter Lachlan Edwards as the Jets finished 2-of-13 on third down. Mike Zimmer was able to unleash his creative blitz schemes against Darnold and visitors sacked him three times and totaled 12 pass defenses.
"They just did a good job. Credit to them and credit to their scheme, but we just have to play better," Darnold said. "We have to connect on balls and I have to complete more footballs. We try to keep it simple around here, but we didn't do the things we needed to do to win the ball game. It's just that simple."
After the defenses dominated the early action, the Vikings offense started to settle in during the second half. But when the game was tight, the Jets couldn't get their offense in motion. In need of a play down 17-7, Darnold forced a ball for Robby Anderson and cornerback Trae Waynes deflected the rock into the hands of safety Harrison Smith.
"I was just trying to fit it in there," said the rookie passer. "Against just kind of a bad read in all honestly. I shouldn't have even thrown it in the first place, but they made a great play."
"If guys are there, you can't force it like that," added head coach Todd Bowles. "You have to see it a little better. You'd like to have it back, but you can't make that mistake."
The defense limited the visitors to a field goal following that first pick and then Andre Roberts gave the offense excellent field position with a 53-yard kickoff return. But running back Isaiah Crowell and tight end Eric Tomlinson dropped easy passes and the Jets had to settle for Jason Myers' 55-yard field goal.
"It is what it is," said the 21-year-old of the drops. "Obviously we'd like to connect on those, but at the same time I have to put it in the right spot. There were a lot of times I was off target with throws."
When the deficit grew to 17, Darnold stood tall and kept scratching and crawling. His 1-yard keeper again made it a 10-point game with plenty of football to be played, but the Jets would get no closer. Darnold was intercepted midway through the fourth quarter by cornerback Holton Hill when he attempted to find Andre Roberts and he was also picked on the ensuing drive when wideout Charone Peake had one bounce off his hands to Waynes.
"The issue was just not connecting on some balls. That was really it," said Darnold, who would not point to the shuffling of personnel as an excuse for the team's lack of execution. "Guys were in the right spots. It was either me not hitting them or something else. It was more of us just having to execute better, it wasn't a lack of experience."