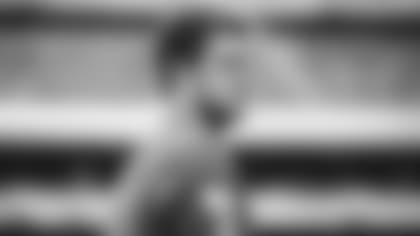 After a year in Adam Gase's system, Jets QB Sam Darnold is in a comfort zone as his third professional training camp commences.
"I have a ton more confidence in myself to be able to go out there and play consistent football," said Darnold, who arrived in Florham Park late last week, Tuesday on a virtual call with reporters.
Darnold, who went 7-6 as a starter last season, saw his numbers improve across the board in 2019. He threw for more yards (3,024) and touchdowns (19) and had fewer interceptions (13) than his rookie season. His QB rating was 84.3, which was roughly seven points higher than his 77.6 mark in 2018. Despite no OTAs or in-person meetings this spring, Gase saw a different Darnold in the virtual meetings.
"I think Sam has a little bit of a different way about him," he said. "There's less learning for him. He does know this offense a lot better than when we started last year. I think he's more detail oriented. He's able to help a lot of the guys whether it's up front, outside or in the backfield. I do think there's a lot more confidence on his part. And his relationship with the defensive players, I think he's always done a good job of making sure he's not just focused on one side of the ball. There's a lot of good communication that goes on between him and defensive players as well."
Earlier this offseason, Gase said his franchise signal-caller would have to be an extension of the coaching staff once the players return to the facility because of all the new faces on the offense. Darnold says he is up for the task once they take the practice field in August following the team's strength and conditioning program that is scheduled to last for a few weeks.
"I'm very confident in that," Darnold said. "Spending so much time with Coach Gase, especially before last year, just trying to learn this offense as fast I could, it was definitely a process. I spent hours and hours trying to learn it every single day and I'm still doing that. I'm still learning the offense, but I'm definitely comfortable teaching some of the young guys and the guys who haven't been in this system before. I'm just really excited to get that rolling."
He added about the rookies: "Another thing that we've really established over this last year or so is culture and I think the rookies are going to come in right away and feel that culture. We're going to take them in with open arms and teach them all about it."
Darnold set foot inside the Atlantic Health Jets Training Center for the first time Tuesday since the end of the 2019 season. He tested for COVID-19 both last Friday and Monday and will be tested every day for the next few weeks along with the rest of the team. Despite the unusual circumstances and uncharted waters that lie ahead, Darnold is excited football is around the corner.
"I'm really excited to be part of this organization," he said. "I think we're going in the right direction and we just have to continue to move forward. We have to have a great strength and conditioning period these next couple of weeks, moving into walk throughs and then having a great training camp."