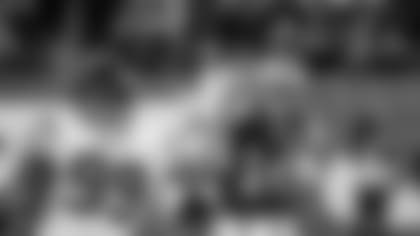 After missing a month of action with a strained right foot, one justifiably could have wondered how effective rookie QB Sam Darnold would be in his return to action. Darnold took a giant leap in Buffalo though, becoming the youngest quarterback in NFL history to lead a game-winning drive. But the rookie signal caller elevated much higher Saturday at MetLife Stadium, putting the Jets on his back and pushing the Texans to the limit in a 29-22 defeat.
"I feel like he's really growing up," said ILB Avery Williamson of the 21-year-old. "These past two games, especially coming back from injury, he's been lighting it up and I'm excited to see his progress. He's going to keep on elevating his game and I think he's going to be great for us."
Displaying the mettle of a season veteran, Darnold never flinched against a Texans defense that had little difficulty harnessing fellow highly-touted rookies Baker Mayfield and Josh Allen. The Texans ran their record to 3-0 against the 2018 QB Class, but Darnold was sensational throughout and made them sweat. He is becoming more effective in the pocket and his improvisation on the move can be deadly at times.
He put in an electric charge into MetLife Stadium, helping the home club take a 22-19 advantage in the fourth quarter. While victory was elusive, Darnold's progression is skyrocketing.
The Green & White had a 15-play, 79-yard scoring possession in the final stanza in which Darnold converted a third-and-1 with a 3-yard keeper, a third-and-8 with a 25-yard gain to fellow rookie Chris Herndon, a 4th-and-1 with a 6-yarder to Robby Anderson and a third-and-10 with a super athletic off-script jaunt that resulted in 14 yards. When Eli McGuire culminated the 7:33 drive, Darnold had the Jets in front in a game they had trailed 16-3 early.
"He ran around all night, make a lot of plays on the run," said Texans all-world defender J. J. Watt of Darnold, who finished 24-of-38 for 253 yards with two touchdowns and no turnovers. "He can scramble, he can make throws. He's a good player and obviously he's young and he's got a great future ahead of him. So I told him he's a great player and good luck."
Darnold was brilliant in the first half, connecting on 14-of-19 for 142 yards with a touchdown. Six days after taking down the Bills with some two-minute mastery, Darnold was back at it with the Green & White down 13 and in need of a score. His 5-yard TD to Robby Anderson with 35 seconds left in the half — their second scoring connection in as many weeks — wasn't how you draw them up. But that is the beauty of the rookie passer who is coming into his own. He has great instincts and he can buy himself time and this was a great example of that, stepping up in the pocket and running within a couple of inches behind the line of scrimmage and then finding a crossing Anderson.
"When he's playing his game, he's not trying to be perfect," said head coach Todd Bowles of the USC product. "He is enjoying playing football. That comes game-by-game. Obviously having success has something to do with it, but when you sit out a while, you get to step back. When you come back, you've learned a little bit. He looks like he's learned quite a bit."
Never rattled, Darnold was sacked by Watt on the game's third play scrimmage and he jumped right back to his feet when Jadeveon Clowney hit him well after the whistle on the offense's second possession. He ran only two times in the first 30 minutes with both resulting in first downs including a 10-yard run in the second that made the Anderson touchdown possible.
"He played phenomenal," said S Jamal Adams, one of the organization's cornerstone pieces. "He's a competitor. I say that very week. He's a bad man and the future is bright for him."
Pulling the Jets even closer in the second half, Darnold came out smoking. He had an absurd third-down conversion to Anderson, eluding pressure and delivering a frozen rope to the speedster for 20. Then he dropped a perfect toss into Andre Roberts, who completed his stop and go route in the end zone for 13-yard score.
"Darnold's special, you see it," said cornerback Trumaine Johnson of Darnold. "He kept us in the game for sure. We just have to finish on D, the last possession."
Images from the Week 15 Matchup at MetLife Stadium