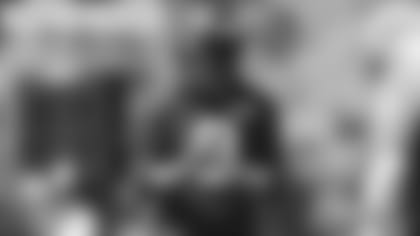 It all becomes really real for QB Aaron Rodgers, his teammates and coaches -- and especially Jets fans -- on Saturday night against the Giants at MetLife Stadium in the final preseason game when Rodgers will see his first live action for the Green & White.
"There's always that risk/reward," Rodgers said on Tuesday afternoon about his first foray into preseason football since 2018 with the Packers. "Over the years, it hasn't made sense based on a number of factors. I used to enjoy it in my younger years, taking the first hit, nerves on the first drive. I look forward to being out there. I'm not sure for how long."
Earlier on Tuesday, head coach Robert Saleh said: "For us as an organization, he's new, though he's been in the league a long time. We didn't want Sept. 11 [the Monday night regular-season opener against visiting Buffalo] to be the first time he stepped into MetLife. Giants-Jets, whether in the preseason or regular season, we expect a good turnout and anticipation in the building. We didn't want his first time in new team colors, with new teammates and in a new stadium to be on Sept. 11 for the first time."
Saleh also told reporters that Rodgers and the offense would play more than a single series. Saleh mentioned the value in having the offense return to the sideline after that first series, making adjustments and then giving it another go.
"We had a conversation," Rodgers said, referring to a chat with Saleh. "And the two of us came to an agreement. So it makes sense."
The offense was the beneficiary of a bit more certainty on the line when Saleh said that Mekhi Becton would start the game at right tackle, next to Alijah Vera-Tucker -- who will also be making his first appearance of the preseason after returning from a triceps injury that ended his 2022 season in Week 7.
"We've got to get a lot done the next two weeks," Rodgers said. "When the speed amps up, the urgency amps up. That's when everything's going to quick -- new stuff, new cadence adjustments. There's not a wasted rep indoor or out on the field. You've got to make every rep count."
One new feature noticed right off the bat on Tuesday was the absence of the facial hair above Rodgers' lip -- the moustache is gone, at least for now.
"It went the way of the white buffalo," the four-time NFL MVP said with a wry grin.
With the right side of the offensive line offering some certainty -- LT Duane Brown was in Houston on Tuesday to have his shoulder examined, LG Laken Tomlinson will not play against the Giants and rookie Joe Tippmann is nursing a knee injury -- Rodgers sees things progressing.
"Those guys are sharp," he said. "We've got to get them thinking and playing at the same speed."
Asked if he sensed an uptick in intensity, Rodgers sought to set reporters straight.
"I think it naturally comes up as we go," he said. "There may have been some comments about me, I don't know if they're true. Cobby [WR Randall Cobb, a teammate with Green Bay] said 'watch out 8's going to snap.' But I'm not the snapping type anymore. I don't want to embarrass anybody. I want to give guys respect and kindness, but there's accountability. If I'm talking or coaches are talking in a meeting, we need to be taking notes so we're not making repeat mistakes. It will all amp up now. It's how the season goes. There are no do-overs when it becomes live."
See the best photos of the Jets during Tuesday's practice at 1 Jets Drive.