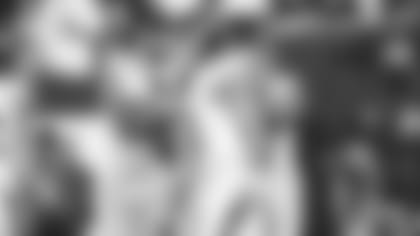 Quarterback Zach Wilson and offensive lineman Alijah Vera-Tucker were selected by the Jets minutes apart in the 2021 NFL Draft -- Wilson No. 2 overall and AVT No. 14 (with a pick acquired from Minnesota).
Through it all, injuries and other ups and downs, the versatile Vera-Tucker has played in front of Wilson while watching his back on the left and right side of the offensive line. If anything, that solid connection, on multiple levels, has grown stronger.
"For me, I have a strong relationship with Zach, he's a strong dude mentally," AVT said. "He doesn't pay attention to the outside noise, it's not his vibe. Everyone has an opinion. Me? Zach, whomever ... we really don't care. It was cool to see him ball out last night [Sunday]. I think he felt comfortable and being one of his homies it was really cool to see."
Vera-Tucker was not alone in his support for and belief in his QB on Monday, fewer than 24 hours after the defending Super Bowl champion Kansas City Chiefs survived a spirited Jets team, holding on for a 23-20 victory that left the Green & White with a 1-3 record ahead of Sunday's trip to Denver to face the 1-3 Broncos. And although AVT and Wilson share a special link, veteran linebacker and team co-captain C.J. Mosley praised the third-year QB and lamented the defense's slow start that put Wilson and the offense behind the eight ball. Head coach Robert Saleh, echoing his words after the game, said that Wilson "just let it rip," adding: "He's resilient. He's gotten dragged through the mud and for him to taste success, even though we didn't win, he's only going to get better."
The Sunday night, national broadcast TV performance, was only one game, but Wilson turned in perhaps the best overall passing performance, statistically, of his NFL career for all to see.
According to TruMedia, he turned in the second-best single-game completion percentage of his career (71.8%) and threw consecutive incomplete passes once in the game. He also posted top five single-game totals in dropbacks (42 his fourth-most), completions (28, the most of in his NFL career), attempts (39, third-most), passer rating (105.2, his best), and passing first downs (12, fifth-best).
Saleh said that Wilson's relationship with offensive coordinator Nathaniel Hackett and passing-game coordinator Todd Downing has evolved since Wilson was pressed into duty in the first regular-season game after Aaron Rodgers went down with a torn Achilles tendon.
"It's an understanding of what each other's strengths are," Saleh said. "With Todd and Hack, they'd been working on installing a system, and now they see his pros and cons. When you get into a game, things show up and you start to understand what a player is comfortable with. There's a heck of a lot more to learn -- how to start faster, finish faster, so many things we're learning as a staff every day. Zach is getting a heck of a lot better. What he is comfortable at he's constantly working on. This is not easy with everything that has transpired the last four weeks."
Against the Chiefs, Wilson completed 28-of-39 passes for 245 yards, 2 TDs and a 105.2 passer rating. He spread the ball around to 10 different receivers, targeting Garrett Wilson 14 times (9 completions for 60 yards) with a long-gainer of 39 yards (and a TD) to Allen Lazard.
According to Next Gen Stats, three of his four TD passes this season had a completion percentage probability below 50%. The only TD pass of better than 50% probability, the 68-yard score to Garrett Wilson at Dallas two weeks ago, was one of the two TDs with a 0% probability. With 75% of his touchdown passes coming on plays below 50% completion probability, Wilson is third in the league (behind Philadelphia's Jalen Hurts and San Francisco's Brock Purdy) among the 13 quarterbacks with three-plus touchdowns on passes with a 50% or lower completion probability.
"Resilience, that's what it's all about," Mosley said. "There's going to be ups and downs in any career, usually more downs than ups. It's about how you handle it. Nobody in the locker room is doubting him or spreading rumors. With Aaron Rodgers and with the same team and if we played to the same record the message would be the same, 'he needs to retire.' It's about mindset, executing and players having trust. I have that same trust in Zach. It's no surprise. We were just waiting for it to happen."
Only four games into the season, there's a lot of room for Wilson and his teammates to grow. Saleh remains one of his QB's biggest, committed fans.
"He's 100 percent taken a big leap forward," Saleh said. "He's been awesome all through OTAs and camp. I said it before, for him to go from the face of the program, the No. 2 pick, then to take a back seat [last season], and then another backseat [after the team said it would pursue a veteran QB], and another starter. Know you're going to be a backup and to go through this offseason, then be thrust back in it ... he's a resilient individual, truly. There has been a tremendous amount of growth this year."