When Hurricane Sandy made landfall along the Eastern seaboard last October and started sweeping up the coast, people could do nothing more than seek shelter, unable to prevent the unimaginable devastation left in its wake.
With today marking the one-year anniversary of the hurricane, the impact on the day-to-day lives of countless people who lost their homes, businesses, possessions and even loved ones continues to be felt, so the Jets are doing what they can to restore the shore.
This morning, RB Bilal Powell, WR Michael Campbell, LB Nick Bellore, P Ryan Quigley and TE Chris Pantale trekked down to one of the hardest-hit areas of the Jersey shore, Belmar, NJ, to volunteer their time sheetrocking and spackling in the basement of St. Rose High School and Convent.
"There was nine feet of water, 800 pounds of fish and five sea turtles swimming in this basement," Jersey Cares volunteer leader Brian Leftwich said. "Everything that was stored down here was completely lost, and so for us to be able to give this space back to them and to have the Jets out here today helping really means a lot to the sisters and to the community."
This wasn't the first post-Sandy cleanup for Chris Pantale, a native of Wayne, NJ. His entire summer was spent reconstructing his grandmother's Lavallette, NJ, condo, which was "pretty destroyed" from the storm.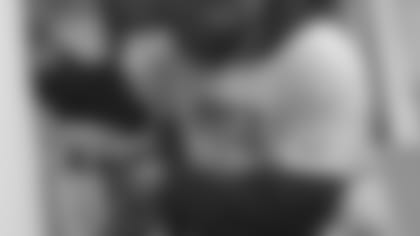 "As a kid I spent all my summers down there and a bunch of my friends had summer condos and houses in the area," Pantale said. "It was really frustrating being up at Boston College during the storm because I knew it was destroying part of my childhood and for some people it was destroying their livelihood. To be able to get out here today, show we care, and help any way we're able to will hopefully put a smile on somebody's face. It means a lot to me personally."
Pantale wasn't alone in feeling personally impacted by the storm's effects. Campbell is also a New Jersey native, hailing from Edison, while Quigley and Bellore both have family and friends living in the state.
"My dad's from West Long Branch, which is right up the road here," Quigley said, "so I have family all in this area. I came up this spring and I'm thinking, 'Almost a year after, now you should be fine.' I mean, we had hurricanes in South Carolina growing up and we usually cleaned up a few months after.
"But my cousin drove my dad and me around and we were just awestruck. The whole shore, all the different restaurants I went to when I was a kid or the beach resorts, they were just shut down. There's still tons of work to be done."
"Everyone here's been working around the clock to get things back to the way they were before the storm," Bellore said. "It's one of those things that had so much destruction and damage that it takes tons of time to rebuild. Schools are as important as anything, though, so it's great that we can be here today and do our part to help out."
The time volunteered by these players during this morning's "Sheet Rock & Roll in Belmar" was just one of many recent initiatives by the Jets in supporting those impacted by Hurricane Sandy.
Earlier this month, LB Quinton Coples and T Oday Aboushi presented a $10,000 check on behalf of the Jets and the NFL to I.S. 2 Middle School in Staten Island, as a part of a Play 60 Super School visit that was postponed from last year due to the storm.
And on Sunday at the Jets-Saints game at MetLife Stadium, the team will host 50 people from Long Island who were affected by Sandy.
Today's activity participants were part of a larger initiative throughout New Jersey organized by the Hurricane Sandy New Jersey Relief Fund and Jersey Cares that mobilized 5,000 volunteers for rebuilding service projects throughout Atlantic, Monmouth, Ocean and Bergen counties on the anniversary of the storm.
"It's really traumatic and stressful because you have to rebuild sometimes from scratch," Pantale said, "but New Jersey's a strong state and fortunate to have so many people able and willing to help get the construction done. It's just going to take time." To find out what you can do to help those who continue to suffer from Hurricane Sandy's impact, you can volunteer time through **Jersey Cares**, or you can donate money through the **Hurricane Sandy New Jersey Relief Fund**.