The Jets announced two transactions Friday, placing RB Matt Forte on injured reserve and promoting DB Bryson Keeton to the active roster.
Limited by a post-bye knee injury, Forté was ruled out for a second consecutive week. He combined for only seven carries and 29 yards against the Patriots and the Colts in Weeks 12 and 13 respectively as Bilal Powell took over the bell cow duties. After averaging 73.2 yards on the ground and recording seven rush touchdowns in his first 10 games for the Green & White, Forté finished with 813 rush yards in addition to 30 receptions and eight total TDs.
Keeton (6'2", 190), a Montana State product, was one of 22 tryout players who participated in rookie minicamp before signing with the Green & White. He had 64 plays on defense in the preseason, was waived and then spent the entire regular season on the practice squad.
Gamedays Have "Electric" Feel for ShellDon't tell Brandon Shell that Sunday's regular season finale between the Jets and the Bills is meaningless.
"It sucks being on the sideline. When you actually get to play, it's like I'm back in a groove," said Shell, who is scheduled to make his third consecutive start at right tackle. "It's electric. I can't explain it."
The 6'5", 324-pound Shell, a fifth-round pick from South Carolina, was active for four games before injuries forced him into the starting lineup in Week 15 against the Dolphins.
"I'm critical of myself, so it's small things that I want to do right like my footwork and my hand placement," Shell said. "After watching film of both the Dolphins and the Patriots games, I do feel like I made a stride. But there is always more room to get better."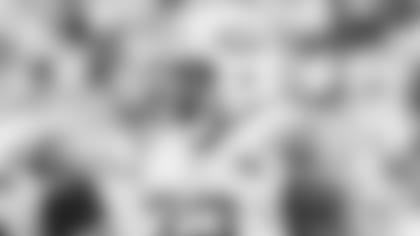 Praised by Jets head coach Todd Bowles this week for his toughness and heavy hands, Shell continues to stress the importance of striking first.
"I just try to get my hands on people before people get their hands on me. That's just the main thing in my pass protection, keeping your shoulders square and putting your hands on them before they put their hands on you," he said. "If you get your hands on them first, you can control them. Coach (Steve) Marshall always tells me to punch and keep my hands inside. And if they get their hands on me, get 'em off."
While the hands are essential in pass protection, Shell points to the heart as the most important tool in the run game.
"With the run game, that's just toughness. That's just like the will to do it, the want to hit somebody and drive them off the ball," he said. "There is not much to run blocking. You have to hit the man in front of you."
Shell will get some more contact on Sunday. Just getting into the flow of things, he is disappointed that his rookie campaign is coming to an end.
"I feel like I'm having more fun now playing than not playing. I'm mad, I'm upset it's the last game," he said. "I'm still going to go out there. I don't care if we hadn't won any games. Do your job. If you love it, you're going to play with excitement."
Final Injury Report It will be interesting to see the Jets RB rotation vs. the Bills. With Forté on IR, Powell (knee) and rookie RB Brandon Wilds (hamstring) were limited today at practice and were listed as questionable. Troy product Brandon Burks was the team's only healthy RB at Thursday's practice.
Second-year OLB Lorenzo Mauldin, who is battling an ankle injury, won't suit up for a fifth consecutive game and finished the year with 2.5 sacks and 18 QB hits. And a nagging hamstring injury will keep DL Steve McLendon out of the lineup for a fifth consecutive contest as well.
Mo Gaining StrengthDuring a film review this week, former Jets LB Bart Scott provided an excellent breakdown of DE Muhammad Wilkerson's Week 16 sack of Tom Brady. Scott pointed to Wilkerson's ankle bend and ankle mobility to turn the corner before racking up a strip sack.
"I feel good. The ankle's getting better each and every week," Wilkerson told us. "But these last couple of weeks towards the end of the regular season, it's getting better."
Wilkerson has totaled 62 tackles this season, racking up 3.5 sacks and 10 TFL. It was Week 17 last year against the Bills when Wilkerson suffered a broken fibula that required offseason surgery.
"Dr. (Robert) Anderson, who did the surgery, told me it would take a year for it to really get back. So Jan. 3 will be a year," he said. "I'm glad it's feeling better and it's getting there. I'm continuing to rehab during the offseason and get ready for a strong year next year."