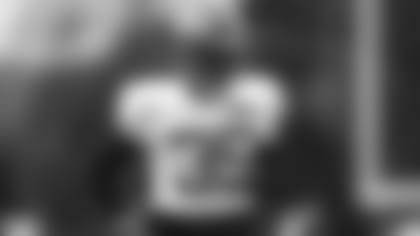 Jets cornerback Pierre Desir, who's been sidelined for almost the entirety of training camp because of a hamstring injury, likes the defense's aggressiveness from his vantage point.
"What I've seen from the defense is that we swarm to the ball," Desir said. "We're going to hit you in the mouth. I feel like we bring that energy and that vibe that it's 11 vs. 1. You have guys flying around from the back-end. In the DBs room, we're all competing. Everyone is trying to get better, push each other. We help each other and I think that's probably the best benefits of the DB room. We're trying to get better, but we're also helping guys along to make sure they know what they're doing and help the team."
Desir took his first team reps in a Jets uniform on Thursday after going through individual drills earlier this week. He said the injury was frustrating at first, but used the time to pick the brains of his teammates who are familiar with defensive coordinator Gregg Williams' system. Desir, however, isn't a stranger to new playbooks -- the Jets are his fifth NFL team since he was drafted in 2014.
"Luckily for me and my past, I've learned a lot," he said. "I've been on different teams with different schemes, so it all worked together. Being put on the terminology is the biggest part. For me, I asked my teammates that have been here before. I talked to Bless [Austin], I talked to [Marcus] Maye to see their insight on the playbook. I really tried to get hands on and then it was a good feeling to be on the field and seeing live."
Desir, entering his seventh season, has the most experience among the cornerbacks. He has totaled 210 tackles, 5 interceptions and 34 pass defenses in 61 games (36 starts). There's no substitute, however, for live reps when learning a scheme, so he's taking a two-part approach to ensure he's on the same page with his teammates for Week 1 at Buffalo.
"It's talking to them after the play, seeing what they're looking at," he said. "Then it's hanging out with the guys afterward. I know a lot of the things we have to do are virtual, but it's calling them and seeing how they view things. The coaches do great work with film study and film review, so I'm getting a lot of different looks and different views. I'm communicating with the safeties to see how they've viewed things and put myself in a good position where I can use them."
Without OTAs or the preseason, Desir believes preparation will be even more pertinent in the early parts of the season. He's encouraged by the extra film study the defensive backs room has been putting in and is eager to get the season off on the right foot.
"I think for me it's getting all the little nuances of the defense like some things I didn't see because I wasn't out there," Desir said of his next steps. "I'm trying to get tuned up on that and the goal is to be 1-0. Get that first win out of the way in Buffalo and that'll carry us on throughout the season."