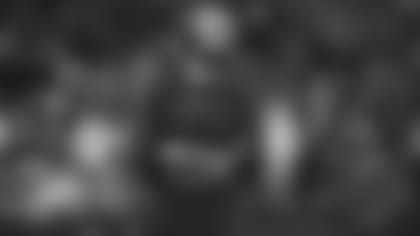 The Jets continued to look for answers on offense Sunday night as penalties and turnovers plagued the team for the second consecutive week in the Green & White's 16-12 loss to the Raiders.
"We got to keep trying to figure it out," HC Robert Saleh said postgame when asked how he plans to get the penalty issues under control. "We have to address it. They know they know what the rules are. They're just coming in at the worst times."
In the days after the Chargers defeated the Jets, 27-6, Saleh stressed fixing the "self-inflicted wounds" that cost them in Week 9. Against Los Angeles, the Jets hads8 penalties for 40 yards. The issues persisted in Las Vegas as New York committed another 8 penalties but for 83 yards, including a costly hold by TE C.J. Uzomah that nullified a 3-yard touchdown run by RB Breece Hall.
On third-and-7at the Raiders' 27-yard line early in the second quarter, QB Zach Wilson broke contain, scrambled for a first down and dove for the end zone on what was initially ruled a touchdown. After a review, Wilson's foot grazed the white boundary, and the call was reversed to a first down at the 3-yard line.
The next play, Hall ran it in for touchdown. But Uzomah was called for holding Raiders Pro Bowl DE Maxx Crosby nullified the TD. The Jets lost 10 yards on the penalty and were forced to settle for a 30-yard field goal by K Greg Zuerlein that extended their lead to 9-3.
"What's frustrating is the different ways that we're creating to not in the end zone," Saleh said. "Zach scores but his toes were barely out. We score on the next play, but we get a holding penalty. We're driving the ball well, but we knock ourselves into a non-advantageous situation where we're 2nd-and-20. It is just happening over and over and over again. We were generating offense we're moving the ball but again, it just, we're just not we're not finishing our drives."
The Jets moved the ball effectively throughout the game, outgaining the Raiders, 365 to 274. But the offense committed 5 penalties that negated plays 5 plays of 10-plus yards including 3 when they had the ball inside the Raiders' 30-yard line.
In addition, with fewer than two minutes left in regulation and the Jets trailing by 16-12, Wilson was intercepted at the Raiders 15-yard line by LB Robert Spillane on a throw intended for WR Allen Lazard. Despite Saleh being encouraged by an improved third down effort (7 of 6), unforced errors prevented the Jets from reaching the end zone for a second consecutive game.
"I thought the offense moved the ball well today," Saleh said. "But when you have five drives into their territory and come with 4 field goals, you're not going to win that way. Obviously, you're just a lot of them are just self-inflicted wounds if we could just get that out of our game. We'll be alright, but for right now it's obvious obviously it's not good enough.
With a pair of matchups against at the Bills (5-4) and vs. the Dolphins (6-3) next on the schedule, the Jets have plenty to correct heading into a critical divisional stretch.
"We need to get it cleaned up or it's just never it's not going to change," Saleh said. "But if we can clean it up and at least give ourselves a chance to play clean football to see what it looks like, I still believe it would still look pretty good."