The tight ends were one of the featured groups in front of the NFL Combine media on Thursday, and one player who might end up torn between two franchises is TE Arthur Lynch of Georgia (shown below).
You see, Lynch (6'5", 258) grew up in Dartmouth, Mass., less than an hour away from Foxboro, Mass., and he played a high school playoff game or two at Gillette Stadium, the New England Patriots' home. Did he ever think about returning there as an NFL player?
"Yeah, in my dreams," Lynch, projected as a mid-round pick, told reporters. "The Patriots, obviously, I grew up pulling for them. I think in my fifth grade 'Goals for Life,' it was to play for the Red Sox, the Celtics, the Bruins and the Patriots.
"But at this point, I just really want to play in the NFL. It's been a dream of mine since I was a little kid. It would really just make my whole word just to get the opportunity. To be here alone has been more of a blessing than I could ever ask for, and I'm grateful for every opportunity."
Yet the Pats are far from the only AFC East team that might be looking at the crop of tight ends at this combine. What if, Lynch was asked, the Patriots don't pick him in the May draft?
"If they don't, if it's the Jets, then I'm just going to have to beat the Pats twice a year," he said, showing that perhaps he'd be really good in the pros at sight adjustments.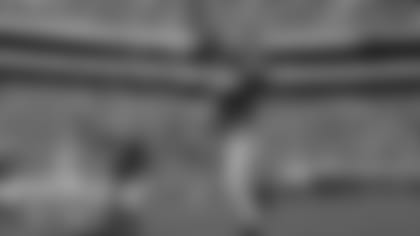 Interviews with the Green Team
We are not supplying any "official" list of players participating at this combine who are talking with our officials each night. But some of the players are asked who they're set to interview with and they volunteer that information. Keeping in mind that the following information may or may not be accurate, we can tell you that:
■ Austin Seferian-Jenkins (6'6", 276), the Washington TE who's the third player listed in some analysts' TE rankings, said, "Yeah, I've talked to the [Jets] position coach in informal interviews."
■ Arkansas C Travis Swanson (6'5", 310) said he has two formal interviews, with the Jets and Bengals.
■ QB Jimmy Garoppolo of Eastern Illinois (6'2", 219) said he's talked with us. "We had a good conversation and everything and we were rolling' from there," he said of the informal meeting.
■ UCLA guard Xavier Su'a-Filo (6'3", 305) said, "I might have a formal with the Jets" but he wasn't sure.
Louie Aguiar became our assistant special teams coach last year and did a good job of counseling K Nick Folk and P Ryan Quigley. Quigley especially benefited from the counseling from Aguiar, who after all was our punter from 1991-93, as "Quigs" produced a 38.9-yard net average that was the best for our franchise in the past 48 seasons, or since Curley Johnson set the mark of 39.7 in 1965.
But before Aguiar became a coach, he was a special teams clinician with his own kicking school. And as such he has coached up more than just our players.
For instance, Houston P Richie Leone said at the combine that he met Aguiar when he was a high school sophomore. "It was so awesome to see him. We worked together and he taught me stuff on holding — he was a holder in the NFL when he played — and stuff like that. He offered really good punting advice, too."