The education of the young Jets continues. Every practice, every game, every rep is critical. Only two games remain in the Green & White's 2016 campaign and some of the younger players are eager to learn from their mistakes. Saturday's Christmas Eve showdown with the Patriots, a club who has captured eight consecutive AFC East titles, at Gillette Stadium provides an opportunity to showcase their growth.
12/12 VisionOutside linebacker Jordan Jenkins, a third-round pick from Georgia, is continuing to make inroads. He has racked up 1.5 sacks the past two games and has done a solid job with his edge-setting responsibilities. But as he prepares to face the Patriots a second time, Jenkins knows hesitation will cost him and opportunities for a free shot on a Hall of Fame QB don't come around too often.
"There was a play when RB LeGarrette Blount reversed the field for like 10 yards and I didn't necessarily get up field and trail at the ball level," he said of a first-quarter run in the Jets' 22-17 loss to New England at MetLife Stadium. "I stayed on the line of scrimmage and ran straight down, which isn't what I'm coached to do. I'm coached to get up the field and chase you down from there. So in case he does cut back, it's at TFL versus winding all the way back vs. the defense. And I learned if I see Tom Brady trying to block anybody — take Brady out on your way to the runner."
So intent on getting an angle on Blount, Jenkins did not see No. 12 in front of him.
"My dad and my friends are like you could have taken out Brady and I'm like what are you taking about. When you see it on film, it's like oh crap," he said this week. "I didn't even see him. I was so locked in on the runner. Brady was in front of me and Blount was literally right on his (butt). I didn't know Brady was even there. I looked right past him. I saw a white jersey, but if he's going to try to block, you have to punish him for it."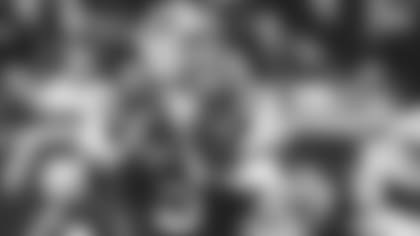 Emphasis for PettyAfter battling early nerves against the 49ers, second-year QB Bryce Petty got into a comfort zone early against the Dolphins as he culminated the team's opening possession with a 40-yard scoring pass to WR Robby Anderson. But that turned out to be the team's only touchdown of the evening while three Petty turnovers proved critical. The Patriots typically don't beat themselves and the Jets likely won't stay in the game with turnovers.
"We came out firing and that was the start that I wanted. I have to be more consistent throughout a game, play-to-play, down-to-down, half-to-half, of putting the offense in the best chance to be successful," said Petty, who will make his fourth NFL start on Christmas Eve and is expected to have some extra padding around his chest area. "No mental errors, no bumps and bruises, no oh, I'm learning. I need to be consistent. That's why they brought me here. That's why I want to be here. Turning the ball over is an emphasis for me this week and coming weeks."
Sprinting Through Rookie WallRobby Anderson is speeding up while a lot of first-year players are slowing down. After Andersons's four-catch, 80-yard effort vs. the Dolphins, Anderson ranks fifth among rookie receivers this season with 544 receiving yards. That yardage total also ranks seventh on the franchise's all-time list among rookie receivers.
"I love my job. It's not like I wake up in the morning and I don't want to do it," he said. "I want to do this. I don't want the season to end. I want to play football year round."
In the teams' first meeting, Anderson had a pair of catches for34 yards. But with the Jets up 10-3 in the second quarter, he fumbled the ball away following a 26-yard catch-and-run. That led to a Patriots TD and the visitors eventually captured a close contest.
"You have to really strain and focus on the small details. That's what they capitalized on with us because we were in it early in the game and I made a mistake, which was a learning experience," Anderson said. "I tried to do too much on one play and I fumbled. But that happens and you have to learn from it."
Next Man UpThe Jets have 15 players on their reserve/injured list and that includes 4/5 of their projected starting offensive line. RG Brian Winters' season ended this week with a shoulder injury and he will be replaced in the lineup by Dakota Dozier, Brent Qvale or Craig Watts.
"You have to go as you see fit. The other guys have to step up and play and get experience right away, and you have to make sure you know what they can do when they go in there," said head coach Todd Bowles this week. "Obviously, they're going to do the things that the guys in front of them did, but you have to make sure you have a good grasp on what they can do well and try to let them do it."
Under the RadarWhile he has received little fanfare, Jets reserve OLB Josh Martin has impressed Patriots coach Bill Belichick this season.
"In the kicking game, Martin is still the guy to stop," said Belichick of Martin, who leads the Green & White with 14 special teams stops "I mean, he's one of the top players in the league. He's done a great job for them."
Powell Picks Up PaceOver the past two games, RB Bilal Powell has been the Green & White's best player. After getting only one touch against the 49ers, Powell has become the team's bell cow. He amassed 61 touches against the 49ers and the Dolphins in Weeks 14 and 15, totaling 341 yards. With Matt Forte battling knee and shoulder injuries, Powell will get the lion's share of the load again. If Forté can't go, perhaps Khiry Robinson would be active for the first time as a Jet. The soft-spoken Powell, who leads the NFL with his 5.7-yard rushing average, is second on the team with 899 total yards and it's possible he could overtake Forté (1,076) in that category before season's end.
"Whenever my number is called, I just take full advantage of my opportunity," Powell said.