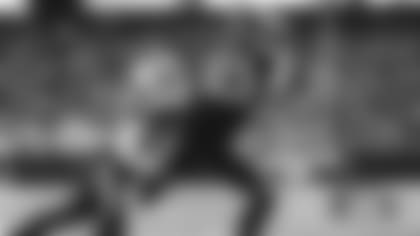 The last time the Jets and the Patriots squared off at MetLife Stadium, there was a moment late in the first half when some fans might have thought of a phrase synonymous with Yankees legend Yogi Berra: "It was déjà vu all over again."
Making It Count This Time
The Jets were running roughshod over the Pats last October and had their longtime nemesis on the ropes. The defense, which racked up 12 sacks of Mac Jones in two meetings last season, had 3 sacks of Jones in the first half, Garrett Wilson had 89 yards over the first two quarters, Michael Carter II had 1 INT and he appeared to give the Jets a 17-3 lead when he returned a second interception of Jones for 84 yards and at TD 37 seconds before to intermission. The pick-6 might have been a nail in the coffin, but alas there was a roughing the passer penalty that negated the takeaway, the Pats booted a field goal before the break and ran off 19 straight points in a 22-17 victory.
"Sometimes I do think about it, but it is in the past," Carter II said of what would have been his first career pick-6. "Really now, we are just thinking about doing it again and thinking about watching film and thinking about the opportunities that might be there in certain situations and making it count this time."
After that 13th straight regular-season loss to the Pats, the Jets lost in equally agonizing fashion in New England when a 3-3 slobber knocker was destined for overtime. That was until Marcus Jones returned a punt 84 yards for a TD with 5 seconds remaining and the Jets were turned away.
But it's a new season and the Patriots are on unfamiliar ground. With a win, the Jets (1-1) would hand the Patriots their first 0-3 start since 2000 (Bill Belichick's first season).
"It comes down to executing against a team like New England, making sure that you don't screw yourself up and turning the ball over, always taking care of the ball, winning the kicking game, being efficient, winning situational football," said HC Robert Saleh. "That is what it always comes down to, especially when you play New England, so for us, without talking about what changes, execution is always going to be key."
Up for the Challenge
Styles make fights. The Jets and the Patriots don't like each other and they both pride themselves on good defense while emphasizing winning on both sides of the line of scrimmage. The Jets are in bounce-back mode after taking one on the chin in Dallas while it might be desperation time already in New England after the Pats suffered close home defeats to the Eagles and the Dolphins.
"It is really physical, kind of like smash-mouth ball a little bit," Carter II said of the AFC East rivalry. "We like that type of game. We aren't just a bunch of finesse guys. We are up for the challenge. We feel good about our plan. Now it just about executing and being on our details."
The Jets need to be better on third down after converting 1 of 10 on offense and allowing Dallas to convert on 7 of its first 10 before finishing 9 of 18.
"I think we just need to communicate," Carter II said. "The third downs were either the ball is out quick, and we aren't aware of the sticks or just aren't conscious of the sticks is huge on third down. If you know where they got to get too, you can cut down the routes and narrow in on what you need to do and be better at anticipating things. Really just communication and letting people know. Even if we are wrong, calling things out and making ourselves aware. But also, just being on high alert. Communication is something that we are going to try and get better at this week."
'This Is the 2023 Jets'
Turnovers have been an issue for Jones and the Patriots as their 4 giveaways are tied for first in the NFL entering Week 3. In both their losses, they've fallen behind by double digits before rallies have fallen short. The Jets are staying in the moment while acknowledging the past.
"I don't know if 90% of the locker room was in there for maybe two of these losses," Saleh said. "I guess that's the point I'm trying to make, it's acknowledged, it's appreciated, we understand, but we've got to move on. This is the 2023 Jets, and the focus is on today and finding ways to continue to get better, so we can put our best foot forward on Sunday, and that's all you can focus on."
A Jets win would mean a 2-0 start in the division for the first time since 2012 and they'd equal their AFC East win total from 2021-22.
"It would mean a lot," Carter II said. "I know its early, but it is a good way to start in the division. And I haven't beaten New England since I got here so that would be pretty cool to do that and start off that way in the division."
Heavy rain and wind are in the forecast for Sunday, so this could be a tight-low scoring affair. With Zach Wilson making his second start of the season, the Jets have players on offense who are a threat every time they touch it in RB Breece Hall, who leads the NFL with 9.7 yards/carry, and G. Wilson, who has TDs in as many games and is averaging 16.7 yards/catch. The Pats have lacked the explosive element on offense but have moved the ball, ranking seventh in pass yards (253 yds/g) and 28th in yards/play (4.5).
"I see that they spread it out, a lot of empty," Carter II said. "They got two good backs. (Rhomondre) Stevenson is really good and obviously they have Zeke (Ezekiel Elliott) now. They get the ball out to their receivers in space and let them work. So, we have to be good on the perimeter and good with our leverage and stuff down the field and tackle. We have to rally to the ball. That is one of the keys this week. No solo tackles. Helping the guy that is at that first point of contact."
If the Jets finally take down the Patriots on Sunday, another one of Berra's "Yogisms" will be appropriate.
"The future ain't what it used to be."