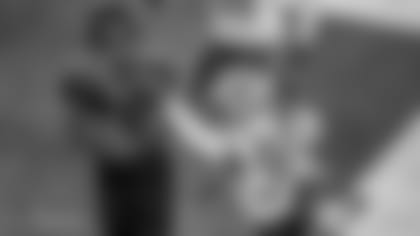 It's been almost 21 months since the Jets last played a regular-season home game in front of the Green & White faithful. That will change Sunday as the Jets (0-1) host the Patriots (0-1) in a highly anticipated matchup at MetLife Stadium. Queens native Folorunso Fatukasi, a defensive tackle and team captain, believes there will be an extra charge in the air.
"It's going to be exciting to be back home in front of Jets Nation," Fatukasi said. "It's been an entire year with no home fans, so to come back home and to have that extra battery pack, it's going to feel special. It's going to feel great."
It will be a feeling head coach Robert Saleh has never experienced. Last season in Week 2, Saleh was on the sideline at MetLife during the 49ers' 31-13 win over the Jets. But he was the San Francisco defensive coordinator and the Jets' 2020 home opener was played in front of empty seats. Over the last eight months, Saleh has developed a great appreciation for Jets loyalists.
"It's the passion of fans," he said. "That's first and foremost. They are a rabid bunch. And I love it, they'll let you know exactly what's on their mind. I'm really excited to hear the fans in that first quarter, the opening kickoff and the chat and all that stuff. Obviously, I've never gotten to experience it. But I've heard it's pretty good rivalry and just really looking forward to the opportunity to be on the same field and listen to our fans go crazy."
Veteran RG Greg Van Roten, who grew up in Rockville Centre and attended Chaminade HS on Long Island, played 13 games for the Jets in 2020. But he hasn't yet participated in a home game that had an electric atmosphere.
"I was excited last year to be a part of the rivalry, growing up as a Jets fan," he said. "It's something that Jets-Patriots is just a big game. No matter what time it's played, if it's a Monday night game, Sunday night game, or Sunday afternoon game. So, it was exciting last year to kind of jump into that foray there, and then this year it'll be even better because we'll have fans and it's our home opener."
Both the Jets and the Patriots are coming off one-possession defeats as the former couldn't dig out of a 16-0 hole in Carolina and the latter turned the ball over in scoring territory late in a 1-point home loss to the Dolphins. The game will mark the first time in the Jets-Patriots' 62-year rivalry that rookie QBs will start against each other. Both Zach Wilson, the No. 2 overall pick in the draft, and Mac Jones, the No. 15 overall selection, showed promise out of the gate.
While the Jets have to improve their protection for Wilson after he was sacked 6 times and hit on 10 occasions last weekend, Jones was hit 9 times by the Dolphins. The Patriots dominated the ball against the 'Fins with Jones connecting on 74.4% of his passes for 284 yards. Wilson threw for 258 yards at 2 TDs on kickoff weekend and the Jets are expected to have veterans wideouts Jamison Crowder and Keelan Cole back in the lineup.
Saleh said of the Patriots defense: "This feels like they've been running the system for about 50 years and they know every single nuance that's involved in it. They're big, they're fast, they're powerful. They're a veteran group and it's going to be a tremendous challenge. Coach Belichick is best in the world at attacking protections from a defensive standpoint, so we got to be on our p's and q's. We have to be able to communicate, we have to execute at a very high level and give our give our guys a chance to run the ball and give our quarterback a chance to throw the ball. If that happens, we feel like we can have some success."
Wilson and nine other Jets made their NFL debuts last week and their six rookie starters were the most ever by the club on Kickoff Weekend (since 1970) and most in the NFL over the last 10 seasons. The Jets are already down three critical players on defense at each level in DE Carl Lawson, LB Jarrad Davis and S Lamarcus Joyner, in addition to Wilson's blindside protector, LT Mekhi Becton, but DT Quinnen Williams says success can be measure in only one way.
"We go out there to dominate and to win," Williams said. "Nobody looks at us like we have to grow this year, we have to develop this year. No, we're going out here to compete against the best because I feel like I'm the best and you feel like you're the best. We feel like we have our NFL jersey on, so we can compete with the best. There's no growth, no development. … We want to grow and develop during the week, so when Sunday comes around, we'll be able to go out there, compete and go out there and try to win."
The fans will be back Sunday. The building will be abuzz and the expectations are clear.
"I've learned being in New York, you got to win," Williams said.
Saleh will guide the NFL's youngest team against Bill Belichick, the longest-tenured NFL coach in his 22nd season and the only head coach in NFL history to win six Super Bowl titles. The Jets' head coach is at the start of a road that he believes will lead to glory for a passionate fan base down the line.
"Jets fans are starving for a winner and we're gonna win," he said. "We're going to bring one home. I've just go much confidence in Joe (Douglas) and his staff and our staff and the players that we have here. And obviously, it's a young group, but I really can't wait for this organization to bring this fan base a championship."