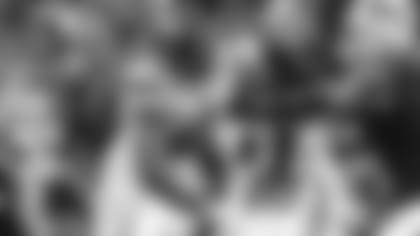 Re-signing Jordan Jenkins was reported to be a nice "reacquisition" this week since Jenkins did become an unrestricted free agent for all or parts of five days.
The Jets have been searching for that unstoppable, game-affecting edge rusher for a while. Jenkins is as close as they've come since he was drafted in Round 3 out of Georgia in 2016. He's improved his sack numbers each year, to team-leading totals of seven in '17 (tied with Henry Anderson) and eight last year. He's had 28 QB hits those two years combined. And his six career strip sacks are the most in a four-year span by a Jets defender since Calvin Pace enjoyed a sixpack from 2009-12.
"What I really like about Jordan is he plays every down, run, pass, the way he thinks through the game, his physicality," head coach Adam Gase said last training camp. "He goes in, especially the beginning of the game, and tries to make a statement. When he goes against those tackles, he tries to be violent, he tries to be aggressive, he tries to make sure that that guy knows it's going to be a long afternoon, and I think the fact that he does a great job setting the edge, he does his job consistently, as a pass rusher, he keeps getting better."
The Jets have several other OLBs who've shown sparks here and there of getting to the passer, players such as Tarell Basham, Harvey Langi and Frankie Luvu (an exclusive-rights free agent). Even first-year players Wyatt Ray and Ahmad Gooden have played the outside and Ray had a nine-sack senior season at Boston College in 2018 before coming to the pros.
And there are hopes that DL Quinnen Williams, although not possessing an edge rusher's body at 303 pounds, can become the 3- and 5-technique pocket pusher that he showed himself to be at Alabama and that earned him the third pick of last year's draft.
But GM Joe Douglas will continue to look for that edge rusher in free agency and the draft. As he said at the NFL Combine:
"The pass game's important, so you need guys that can affect the pass game on defense, and you're talking about corners and pass rushers,. So it's going to be important for us to look at those two positions very closely."
But will the Jets turn to the remaining free agents or wait for next month's draft? Still on the market among many others are DEs Jadeveon Clowney, who will carry a huge pricetag, and Everson Griffen, who's been productive but is getting long in the tooth; and LB Markus Golden, who's had 10-plus-sack seasons for two different teams, Arizona in '16 and the Giants last year.
OUTSIDE LINEBACKERS
Newly Signed UFA: Jordan Jenkins (reportedly re-signed this week)
Jets Holdovers: Tarell Basham, Harvey Langi
First-Year Jets: Ahmad Gooden, Wyatt Ray
Free Agent Jets: Frankie Luvu (exclusive-rights)
Departed: Brandon Copeland
Veterans Still Available: DE Jadeveon Clowney, DE Everson Griffen, LB Markus Golden