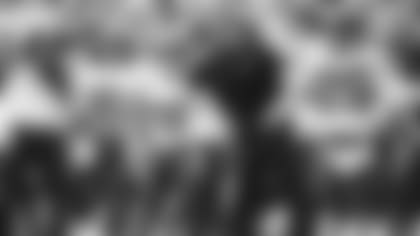 After an offseason marked by makeover, the New York Jets will open the 2021 campaign on Sunday against the Panthers in Charlotte, NC. Led by first-year head coach Robert Saleh, and new offensive and defensive coordinators in Mike LaFleur and Jeff Ulbrich, the Jets will start rookie quarterback Zach Wilson and enter with the NFL's youngest roster. If those storylines didn't offer up enough intrigue, the Jets defense is set to face Wilson's predecessor, Sam Darnold, who was traded to the Panthers in early April.
The Jets' season-opener comes 20 years and 1 day after Saleh's older brother, David, made it out of the 61st floor of the south tower at the World Trade Center and was one of the survivors on Sept. 11, 2001. Through tragedy, a shaken Robert Saleh determined he would follow his heart and ditch the banking industry for coaching. And that long and winding road will take him to Bank of America Stadium in the Queen City.
"It is cool, obviously," Saleh said of his start with the Jets. " I mean, one of 32 [head-coaching jobs] right. But you know, I haven't I haven't really had a chance to look back or look at it and really think about it. Everything for us has been about getting these players ready. And maybe it will hit me during the anthem. I don't know. But for right now, it's, it's been about focusing on what we need to do to get these guys to play as fast as possible."
From the day he arrived at 1 Jets Drive, the Saleh mantra has been "All Gas, No Brake." AGNB are the letters to live by and the Jets' identity will be revealed on film.
"If you turn off the volume and there are no announcers, you can't hear the fans and you're just sitting there by yourself and you're looking at the screen, what does your play say," Saleh said. "What is it speaking, and that style of play and what it speaks is who you are. For us, we talk about that effort: that violence, that fast physical demeanor, that's what we want to see on tape. That's what we want screaming off the tape. And if you're not popping that off the tape, then you're not exactly working to the style that we know that we can play at and a so that's kind of what we're hoping to see — a fast and physical football team."
Week 1 in the NFL is highlighted by the unknown and Saleh has a lot of unproven commodities. The Jets aren't devoid of talent, but they have 12 first- and 9 second-year players. Wilson (22) had a good summer, but the challenges will be significantly different as his pro career gets underway.
Saleh said: "You're going to get a lot more disguises, he's going to see the picture change post-snap a lot. He's going to get more pressures obviously, the teams are going to attack protection a lot more to get him off kilter and they're going to try to hit him."
Although he didn't get hit in the preseason, Wilson showcased his improvisational skills occasionally during practice and on a 27-yard connection to Corey Davis against the Packers.
"We saw a glimpse of it against Green Bay where he left the pocket off to his right and threw a little dart out Corey [Davis] down the sideline, so he's got that in him," Saleh said. "But what we are excited about is his ability to stay in the pocket and go through his reads and deliver the ball on schedule to keep the offense ahead of the chains. And rather than always improvising and looking for the explosive every play, understand that you can do both.
"Obviously, he's going to have some rookie mistakes and he's going to go through his good times and bad times. But we bring it back to his process and the way he goes about his day-to-day operation and getting better. That's where we feel like his mistakes won't be repeated because he'll just learn from whatever it is that happens."
Early on in the scouting process, the Jets determined they would take Wilson with the second pick. They considered keeping Darnold, who started 38 games from 2018-20, but ultimately thought it would be best for all parties for him to have a chance elsewhere. GM Joe Douglas obtained three picks for Darnold, originally taken No. 3 by the Jets in 2018, including second- and fourth-rounders in 2022.
"We felt in the evaluation process that Sam is definitely an NFL starter, just give him a chance, let him continue to work and prove that he was worthy of the draft pick that he was," Saleh said this week. "The initial evaluation on Sam, it hasn't changed, it's still very favorable. He's a very talented quarterback, he's a very talented young man and he's someone who just needed an opportunity to showcase who he is and prove that he's worthy of what he was drafted at."
Wilson and Darnold will duel, but the outcome will be decided by many factors. Can the Jets win on both sides of the line of scrimmage and limit RB Christian McCaffrey? Saleh says it's important for his young outfit to trust core fundamentals and beliefs. The Jets' head coach is about to enter attack mode and that means stepping on the gas.
"I don't want to say it's another game, but it's gameday," he said. "You trigger into your gameday mode and it's time to go. Whether it's the first game of the year, preseason game, Super Bowl, it doesn't matter. You want to treat every game, every moment, like a championship moment. And so you just attack those moments and do the best you can."