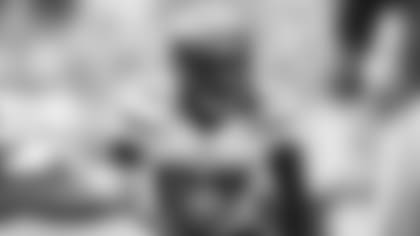 Battle of 3-2 Clubs
Entering Sunday's game at Green Bay, the Jets have a pair of modest two-game win streaks, overall and on the road. The last time those streaks moved to three concurrently was 2010 — the last time the Green & White made the playoffs. The Jetse will face a Packers team in Week 6 that dropped a "home game" last week against the Giants at Tottenham Hotspur Stadium in north London, but the Packers have posted a 24-3 regular season mark at home since 2019 and have captured their past 15 regular-season games at Lambeau.
"I think confidence is contagious," head coach Robert Saleh said this week after his club's 40-17 pounding of the Dolphins. "I think our guys have deserved the right to feel good about themselves, but at the same time this league is very humbling, and they'll take it away from you in a heartbeat. We still haven't done anything yet; I think we'd be remiss not to reflect and appreciate what we've been able to accomplish to this point."
Fresh off wins at the Steelers and home vs. the Dolphins, the Jets move out of the AFC for the first time this season against a Packers outfit led by a future Hall of Fame QB. Aaron Rodgers, who is completing 67.9% of his passes for 1,157 yards with 8 TDs and 3 INTs, believes his team is about to go on a run.
"Well, I think I'm playing as well as I can at times," Rodgers said. "I expect that typical stretch coming up at some point where we get really hot. Hopefully, it starts this week, but I think that's right around the corner."
Jets Offense Taking Off
While the Jets are leading the NFL with 58 fourth-quarter points, there has been progress everywhere on offense. Since Week 12 last season, QB Zach Wilson, set to make his third start of the season, is one of four players with 5+ pass TDs and 5+ rush TDs. Rookie RB Breece Hall leads the league with 6.7 yards per touch, OL Alijah Vera-Tucker has excelled at three spots along the offensive line and the Jets are the only team in the NFL with four players with 200+ receiving yards.
"It is a really diverse group, we've got a lot of different guys who can do a lot of different guys with the ball," said veteran WR Corey Davis. "It's real cool and you kind of have to be selfless at times. One week, this guy might go off. Another week, this guy might go off. It's just part of the system, you have to stay humble and man, I'm excited to be part of this team and be part of this wideout group. We've got some dogs."
While the Packers are fifth in total defense (303.4 yds/g), they are 21st against the run (126.4 yds/g).
The Rodgers Transition
Last season, Rodgers targeted Davante Adams 169 times and they connected on 123 for 1,553 yards with 11 TDs. Facing a financial challenge, the Pack shipped Adams to the Las Vegas Raiders last March, and Rodgers has moved on with a group that includes Romeo Doubs (22-213-2TD), Randall Cobb (17-249) and Allen Lazard (16-209-3TD), along with TE Robert Tonyan (17-129-1TD).
"You can have a tight window with Aaron and Aaron's still going to find a way to get it in there," Saleh said. "That's the challenge, you can have coverage and if you think that you're in a good spot, whether you're in zone or whatever it is, Aaron's going to find the hole to get it to him. So just completely be alert, don't fall asleep on the down. Don't think that just because your body position will tell normal quarterbacks that this play is over, he'll find a way to make you pay."
Cobb, the veteran slot target, was targeted 13 times in last week's loss to the Giants and had 7 receptions for 99 yards. He'll likely see a lot of nickel back Michael Carter II while the Jets are excelling on the outside with CB Sauce Gardner. Gardner who leads all rookie DBs with 6 PDs and whose safety-induing rush and INT last week led to 9 points, and D.J Reed, whom Pro Football Focus has ranked 18th out of 104 cornerbacks. The Jets are the only team to record 38 QB hits, 12 sacks and 7 INTs.
"They have a lot of vision to the football, vision football defenses are always going to have opportunities for tipped balls and reading quarterbacks' eyes," Rodgers said. "Any time you play against this defense that kind of started out of the Seattle system, it's predicated on guys flying to the football and guys having vision to the football. So you have to be good with eye discipline, you have to be able to look guys off, throw through windows, anticipate throws. But when you have that many guys with vision to the football, naturally there are going to be more opportunities for football."
Special X Factor
According to Football Outsiders' DVOA Ratings, the Jets special teams rank second in the NFL. Justin Hardee, who kept the Jets' comeback hopes alive with an onside kick recovery in Cleveland, leads the coverage units with 4 tackles, while fellow gunner Brandin Echols and backup safety Ashtyn Davis have chipped in with 2 apiece. All-Pro returner Braxton Berrios is third in the NFL with a 14-yard PR average while K Greg Zeurlein has been good on 8-of-9 field-goal tries, including a perfect 3 of 3 from 50+. Braden Mann is averaging 45.8 yards a punt and has a 42.8-yard net with 9 punts downed inside the 20.
Conversely, the Packers are 27th and 24th in punt and kick coverage ,and 24th on kick returns. Amari Rodgers has had trouble with ball security, so the Packers' return situation could be in flux.
"It's a third of the game," said Berrios. "And we've luckily been able to show that with our impact. Our coverage teams are doing incredible things right now. Greg's been kicking it out of the back of the end zone on kickoff. Our punt coverage has been really, really impressive. And then the return units, obviously punt return, we'll get going when we get opportunities. And we were finally able to do something on kick return this week to that really, that really got us rolling. It's a huge part of the game and it's fun for us, especially the punter, kicker, long snapper, when the specialists have a true impact on the game. And they really have great. Braden Mann is punting the heck out of a ball. And as I said Z [Zuerlein] is kicking it really well. So, we take a lot of pride in that."
See the top practice images leading up to the Week 6 matchup against the Packers.