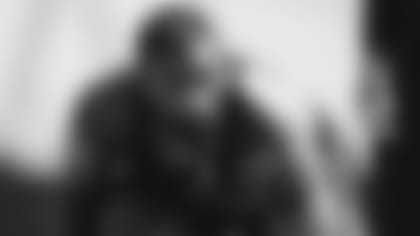 Following an unexpected offseason that saw former star S Jamal Adams depart to Seattle via trade and LB C.J. Mosley opt out of the season due to the ongoing pandemic, Jets veteran OLB Jordan Jenkins believes defensive coordinator Gregg Williams already has the defense ahead of schedule.
"Honestly, it's a really great factor for this defense," said Jenkins of system continuity. "We have some new faces and being able to have the same defensive scheme puts you ahead of the ball. The way we do stuff and the way we go through plays, we're ahead of the curve more right now than we were at this time last year."
Without the benefit of on-field spring workouts, Jenkins and group of veteran defensive leaders including DT Steve McLendon and CB Brian Poole helped Williams deliver his messages.
"We didn't have OTAs, but guys and all of the vets in each room held each other accountable and made sure all of the young guys learned all of the stuff they're supposed to do," said the 6'3", 259-pound Jenkins, a fifth-year veteran. "We're ahead of things. Having Gregg back is going to be a great asset to the defense, it gives guys comfort knowing what they're supposed to do."
Two years ago, Jenkins racked up 7 sacks after the former Georgia Bulldog combined for 5.5 in 2016-17. Then in his first season under DC Williams, Jenkins improved both his game and numbers, tallying a team-leading 8 sacks along with 13 QB hits and 2 FF. Williams' coaching style and approach to the game has had a positive effect on Jenkins.
"G-Dub is a guy who can test your mental, test your physical and still respect you at the same time," Jenkins said. "He knows how to get the most out of guys. There's going to be some days in camp where he just tries you to see how you respond. He'll dog you one day just to see if you back it up. He's a guy that can get others going, he's a fiery guy…He's the type of coach and leader that you want. He's going to go to bat for you."
The Jets defense played well in 2019, ending the season ranked No. 7 overall and No. 2 against the run. But despite the defensive success, Jenkins has narrowed his focus on the ultimate team goal.
"No one is used to losing, and no one likes losing," Jenkins said. "The sentiment is, losing sucks and no one wants to come out here and play a game just to lose every game. Ultimately, we want to go out there and win. I'm not from New York, but I'm pretty sure they're tired of it too."