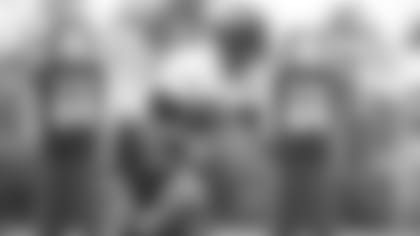 Jets OL Tristen Hoge, who signed with the team in May as an undrafted free agent out of BYU, said that he is well acquainted with adversity.
"Adversity is opportunity that hasn't revealed itself yet, but the Jets gave me the opportunity to be here," he said. "I have an axe to grind to prove myself worthy of the team and I'm going to come in and work every single day because that's all I can do at this point. It's just work and if I can put my best self on that field every day, I feel like I can prove myself worthy of this team."
Hoge began his college career at Notre Dame before transferring to BYU after two seasons in South Bend, IN. He then started 25 games in three seasons at RG for the Cougars, starting 13 in 2018, his first season in Provo, UT. Hoge then missed 12 games between the 2019 and 2020 seasons -- a leg injury in '19 (8 games) and Covid that resulted in pneumonia in '20 (4 games).
"That was terrible because I was psyched for my last season," he said of contracting the coronavirus. "My father and my mother reasserted in my mind and myself that knowing when I came back, it's gas. Like they say here, 'all gas no brake.' Make sure the pedal is to the metal right when I got back, not skipping a step and getting ready to go. Even though it knocked me down for a few games, I wasn't going to let it sit here and ruin my season. I knew every opportunity I got, as short as they were, I had to take advantage of it."
Hoge didn't have any lingering effects from the virus after returning to the field, although he wishes he could have played in the four games he missed to help improve his NFL résumé.
Hoge, who has tremendous energy, is ready to try and carve out a roster spot after going undrafted. It was an easy decision for him to sign with the Jets that has nothing to do with reuniting with his college quarterback in Zach Wilson, who was selected No. 2 overall by the Green & White.
"I talked to Coach [Jake] Moreland before the draft began and we were discussing a lot of things that they were doing here and how it would be an easy transition to pick up this offense that way, knowing that," he said. "It made an easy decision. Plus, I love Coach Moreland's energy and getting to meet Coach [John] Benton afterward, their energy matches. They're ready to get to work and so am I, so it was simple."
He added: "They want to run the ball. They're going to put it on the offensive line's back and that's a great thing for us. We like that. That's the type of energy we had in college – put the running game on our back, put the team on the offensive line's back and let's go. That's what they want to do here, so that made the decision simple. The offensive line is going to lead the team in that manner, so it's going to be fantastic here."