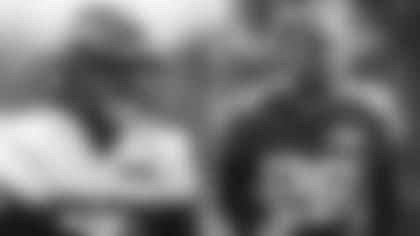 Jets OL Carter Warren and DB Jarrick Bernard-Converse have returned to practice. Each has have a 21-day practice window before the team needs to officially add them to the active roster.
Warren (6-5, 323), the team's fourth-round pick out of Pittsburgh, was placed on injured reserve on Aug. 30. He took 43 snaps in the Hall of Fame game against the Browns on Aug. 3 before he sustained an injury. A Paterson, NJ, native, Warren started 39 games at left tackle for the Panthers over the last four seasons and earned All-ACC honors in 2021.
Bernard-Converse (6-1, 205), the sixth-round pick out of LSU, was placed on the physically unable to perform list on July 19 and did not practice during training camp. He totaled 240 tackles, 175 solo stops, 31 PDs, 4 INTs and 2 FF in 64 college games. JBC began his career at Oklahoma State before transferring to LSU for his final collegiate season and has experience at both safety and cornerback.