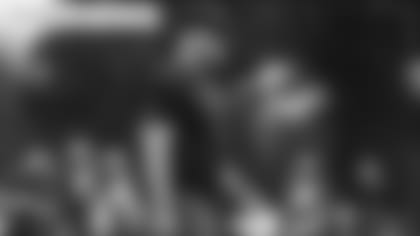 Aaron Rodgers said a few weeks ago that when people are around Jets offensive coordinator Nathaniel Hackett for the first time, "you're wondering if it's an act because he's on all day long, and he loves it."
Hackett, speaking to reporters for the first time this training camp, was certainly "on" following Tuesday's practice when he spoke, not angrily but animatedly as advertised, about the give-and-take of the last week regarding new Denver head coach Sean Payton's comments critical of "Hack's" 15 games last season as the Broncos' less-than-one-and-done HC.
In fact, Hackett opened his remarks at the newser about those comments before a question was asked.
"I've been involved in this business my whole life, 43 years, as a coach, as a coach's kid," the son of former Jets OC Paul Hackett said. "We live in a glass house, we know that. We all live in different rooms, we've all got a key for it. And there's a code, there's a way things are done in that house.
"This past week, it's frustrating and it sucks, but we're all susceptible to it. There are things you do, mistakes you make, and it costs you time on the field, it costs you your job, all those things. And I own all that stuff. I've got no excuses."
Hackett said it was unfortunate that the comments were made but he had a feeling they were coming.
"I was probably more surprised that they happened now. I was definitely expecting them in Week 5," he said, referring to the Jets' October trip to Denver. "So I'm almost thankful that we got that out of the way."
Hackett never mentioned Payton's name. He said he's never met him, hasn't heard from him since the remarks were made, and doesn't expect to.
But he doesn't have to, with everyone on the Jets having Hack's back, starting with the veteran QB that he first coordinated Green Bay's offenses alongside from 2019-21.
"Everyone's entitled to their own opinion, and you don't have to like it. And I didn't like it at all, and that's why I said what I said," Rodgers said after practice, following up on his remarks in defense of his OC last week. "I have a lot of love for Nathaniel. He's a good human being, he's a man of high integrity, and I'll always stand by him and my teammates."
Hackett was asked where the wellspring of that relationship is located.
"Aaron and I, we've just gotten to know each other and understand each other, and have fun together, and fight together," he said. "A lot of people say a team is about a family, and I truly believe that. These are the guys you go through ups and downs and adversity with, you fight with and you celebrate with. That's something that we've both been blessed with in our friendship and our professional relationship at the same time."
It has been clear for a while and will come into even sharper focus in the days, weeks and months ahead that the Jets' offense is Rodgers' scheme, it's Hackett's scheme, and much of its success this season will be determined by how well those two remesh with all the parts, most new but some familiar, around them.
And while Hackett wanted to look back just a bit today, he's looking forward to what this Jets offense and Jets team can accomplish.
"These players, these coaches, just the entire organization ... has been unbelievable," he said. "I'm very excited about this team. There's been a lot of really good stuff going on here. And I want to be sure we're focused on that."