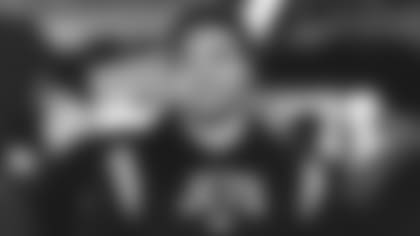 The Jets could not ask more of Alijah Vera-Tucker.
As he prepares for his third season with the Green & White, AVT had played in 100% of the snaps on the offensive line in 2021. He was on his way to duplicating that feat in 2022, appearing in all the snaps on the Jets' offensive line until Oct. 23 at Denver. That's when he sustained a season-ending torn triceps muscle only 16 plays into the 16-9 win. By sheer coincidence that game also cost the Jets a budding rookie star in RB Breece Hall, who sustained a season-ending torn ACL.
Losing Vera-Tucker after losing Mekhi Becton in the preseason as players like Duane Brown and George Fant also dealt with injuries left the Jets playing a form of musical chairs on the O-line. Now AVT is back, and joined with several reinforcements -- free agents and draft picks -- the Jets are hellbent on putting together a group that can keep veteran QB Aaron Rodgers clean throughout the season.
"I'm doing good right now," AVT said on Wednesday during a break in the Jets' offseason drills at the Atlantic Health Jets Training Center. "With recovery and rehab, I'm feeling great. Making great progress and I should be ready for camp. I'm doing drills during OTAs and it feels good to be back out there."
AVT was GM Joe Douglas' second first-round pick (No. 14 overall, out of USC) of the 2021 draft after selecting QB Zach Wilson with the No. 2 overall pick. The team was attracted to his size (6-5, 308) and his versatility, having played tackle and guard in college -- with distinction.
He was called on to make similar adjustments last season before the triceps injury. AVT had played right guard, left tackle, and right tackle last season after playing his rookie season at left guard.
Asked on Wednesday if he has a preference, AVT said: "For me it really doesn't matter. I'm always team first. Talking to Coach [Keith] Carter, he has a plan for me and the whole line. It comes down to his decision. We've been talking here and there, and I feel comfortable with either one. Right now, I'm a right-side guard in OTAs. Anything can change, we saw that last year in the beginning of the season. You never know. I always stay on my toes."
Wherever he ultimately ends up planting his cleats this coming season, AVT and the rest of the Jets' O-line will be playing in front of a new quarterback in Rodgers. Rodgers, who was introduced early last week ahead of the NFL Draft, has been at 1 Jets Drive since and has even caught Rangers and Knicks playoff games at Madison Square Garden in his limited time in the area. He has also been working out during the optional sessions.
"Just seeing him in the huddle, it's still a surreal feeling to have a guy like that here," AVT said. "He's been in the game so long he knows how to handle the huddle, the cadence. He is calm and overall talking to him, he's a great guy. He seems like a chill dude, even-keel, which is important for any quarterback. Things have been going well and I'm excited to get into camp."
Assuming AVT returns to guard, he could be playing next to a familiar center, the recently re-signed Connor McGovern, or the imposing rookie Joe Tippmann. The Jets also signed Wes Schweitzer, who took 348 snaps at center last season in Washington, and Trystan Colon, a former Raven who has totaled 135 career snaps at the pivot, in free agency.
"I got to meet Joe, he's a big guy, athletic, powerful," AVT said. "He comes from Wisconsin, which has been turning out those guys.
"Connor coming back is another veteran on this roster. He's really smart and knows everything there is to know about playing center. Tippmann, I can't say enough about him. He's a tough player, a smart guy and it's good to have in the O-line room."
See the best photos of Aaron Rodgers and the Jets offense during Phase 2 of optional team workouts.