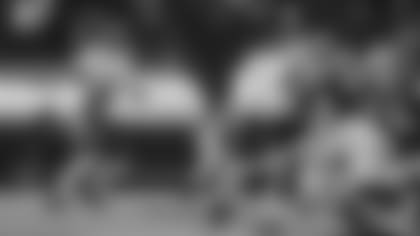 Sam Darnold woke up on Monday morning with a sore shoulder, aggravated in an ill-fated third-down scramble at Kansas City on Sunday afternoon.
"It's just sore, I don't know more or less [than after last week's game against Buffalo]," Darnold said. "That [the scramble] hit didn't help. I should have slid and not taken the hit. I will continue to learn from mistakes. It feels better than I thought. One day at a time."
Darnold first sustained the injury when he was slammed to the turf in the Jets' loss to Denver in a Thursday night game. He missed two games. In the fourth quarter on Sunday, Darnold took off on third-and-10 and was sandwiched by Tershawn Wharton and Tonah Kpassagnon, popping up holding his right shoulder, the same one injured against the Broncos.
Asked during Monday's conference calls with reporters if he's ever contemplated shutting it down for any length of time, Darnold and Head Coach Adam Gase each had an emphatic response: No way.
"I'm focused on playing as much as I can, not missing any games," Darnold said. "My thoughts, first and foremost, are that I want to play every game I'm capable of playing. If I miss a game I can play, that is my worst nightmare."
Gase said: "He didn't say to me that it was worse, he said he's sore and left it at that. We'll make sure to go through all we need to go through so he can play without anything hanging over him. We'll take the next day or so to make sure we're clean. We're making sure that we're talking to him, where he's at pain-wise. We'll get second opinions to make sure we're good., making sure we're not putting him in harm's way where any further damage is done.
"Sam wants to be out there. That's a big part of it, too. We need him out there. He gives us the best chance to win on Sundays."
Or in the case of the Jets' next game ... on Monday night.
Trade(s) Reaction
The trade of Avery Williamson to Pittsburgh as the NFL's trading deadline (4 p.m. Eastern on Tuesday) approaches elicited questions for Gase, S Marcus Maye (a captain) and LB Jordan Jenkins (the Jets player with the longest tenure).
"You never want to see guys leave, but it's part of the business," Maye said. "I take it for what it is. It's nothing that I can control." He added: "The guys keep saying control what you can control. All I know is that it's the business we're in. You've got to keep a positive mindset and do what you have to do to help yourself out for another day."
Jenkins said he is simply focused on going about his business.
"What I'm trying to say is I don't think here or there about it," Jenkins said. "I just go out there and try to win. That's it."
It was left to Gase to address whether the team's recent deals (including releasing Le'Veon Bell and trading Steve McLendon to Tampa Bay) sends the wrong signal.
"I never look at waving a white flag, it's not in my DNA," Gase said. "This is our profession, when things like this happen guys aren't getting shocked. We have to win games, the younger guys get opportunities to play. This is what the NFL is."
Gase added: "It feels like to me, each one [trade] is a different story, there's reasons behind every move that we make. ... We have guys others see value in and we get draft picks. It's not always ideal. That's the NFL. That's part of what happens when you don't win."
Monday Night vs. the Patriots
The Jets (0-8) and the New England Patriots (2-5) will meet for the first time this season on Monday night at MetLife Stadium, with both teams looking up at Buffalo and Miami in the AFC East.
Uncharacteristically, the Patriots have lost four straight games after Sunday's 24-21 defeat at division-leading Buffalo (6-2). New England (0-3 against division opponents) has been a nemesis of the Jets, the division, the AFC ... heck, the entire NFL for as long as a lot of people can remember. Now, the Patriots are struggling in their first season without Tom Brady at quarterback. By coincidence, Brady and his new team -- Tampa Bay -- were in the Jets' backyard on Monday night, playing the Giants.
"It's definitely a big opportunity, the fact that it's our next game I'm sure once we start watching film of these guys we'll see what we can do to put a game plan together to get a win," Maye said on Monday. "It's definitely unusual to see them in the situation they're in."
Gase reserved most of his comments about the coming game until later in the week, but did say that the Patriots' predicament is something new to him, and the entire league.
"It's a little early for me to really jump into that," Gase said. "With New England, all I can say. big-picture-wise is that it's something I've never seen them go through. I think I was a graduate assistant at LSU the last time since they've lost four in a row. It's been a long time since I've heard the Patriots have lost four in a row. They have some familiar faces, some we have to learn. We have a lot of work ahead of us with the extra day. We have to do a great job getting our guys ready to go and compete on Monday."
Injury Update
Other than Darnold's sore shoulder, Gase said the team would work through the week and then assess who will be healthy for Week 9.
For now, according to Gase, C Connor McGovern (knee) could miss a day of practice; Quinnen Williams (hamstring) is in the same situation as McGovern. WRs Jamison Crowder (groin) and Breshad Perriman (concussion) will be monitored and evaluated through the week to track their status; and K Sam Ficken (groin) could kick during practice this week.