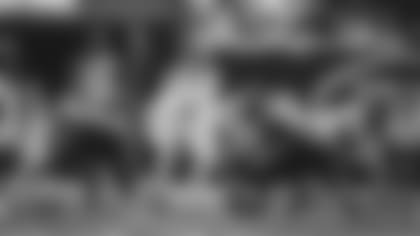 Throughout the summer, Jets head coach Robert Saleh said he was eager to see how his team would respond to adversity. And after starting the season 1-4, Saleh was asked for his post-bye thoughts on the Jets' identity.
"I think we all stand in lockstep with Joe (Douglas), in terms of we're going to be identified upfront," Saleh said. "Our O-line has played very well here over the last few weeks and we anticipate them to continue to play well. Our D-line has been extremely effective -- very, very good playing with a lot of energy, a lot of just overpowering teams, overpowering their opponent.
"I think it's starting to get established. I know it's hard to see right now, but I think in the trenches, we've been the better team with the exception of those first couple of weeks. But it's been coming along and I think our guys are starting to understand where we're going to make hay and where we're going to win football games."
The Green & White's pass protection has improved throughout the first five weeks. Quarterback Zach Wilson was sacked 15 times in the first three games and just 3 times since. Since LT Mekhi Becton's knee injury in Week 1, each of the five starters haven't missed a snap.
The Jets, however, haven't had the same success running the ball. Outside of gaining 152 yards against the Patriots in Week 2, the team has totaled 218 yards in four games (2.9 avg).
"Our offense is third-down conversions, possessing the ball and moving the chains, and those give opportunities to run the ball more," Saleh said. "The one game where we were able to do that was the New England game and we were able to get possessions. We were able to move the football and we were able to run the ball pretty effectively against New England, but obviously we were turning the ball over at inopportune times. It comes with opportunity and I think once the structure's there, they're getting better at it, but it definitely is not showing. I'm not going to argue with you on that one, but we feel really good about our O-line and where it's at, and it's only going to get better."
Expectations for No. 2
Zach Wilson has shown flashes of the play-making ability that made him the second pick in April's draft, but he and the offense have started slowly early in games. While Wilson has thrown nine interceptions, the Jets have scored 47 points the past two games and Saleh believes the bye week could benefit his signal-caller.
"I had a good talk with him, I believe it was Friday evening or Saturday morning," he said. "He was talking about some things, I was like, 'Hey dude, just make sure you go to sleep. Just relax, just lay off a little bit and just relax.' He's such a competitor, he's just constantly thinking about it. But I do think [it's good for] coaches, players, the organization, to step away and watch somebody else for a minute. It's a good refresher and a chance to come back and see if we can finish this thing strong."
WR Braxton Berrios, who has 16 receptions for 156 yards, says Wilson has remained even-keeled throughout the early ups and downs of his career.
"You can just tell how much more comfortable he is that he has these five games under his belt and the preseason ones as well, so however many that is," Berrios said. "And there's definitely a comfort thing, there's a huge leadership thing, and what we know is, one of the things that I loved about him from the very start is his competitiveness. I know he's going to put everything he can into every week to come out with a 'W'. And when you see that day in and day out, no matter what else is going on, that's a guy you want to play for."
Clocking In
As the team returned from its bye week, DT Folorunso Fatukasi said the Jets are refreshed and ready for the team's rematch of Week 2 against New England.
"There's a lot that we've learned, honestly," he said. "Kind of a lot to speak on, but one thing we will say is that New England has always been a great opponent. They've always been a great team, so we have to just take what we've learned and use it to our advantage. Grow from it, fix it and then come into this game because we know they're going to come out and compete. That's really the bottom line -- to just take what we learned and use it in this next game."