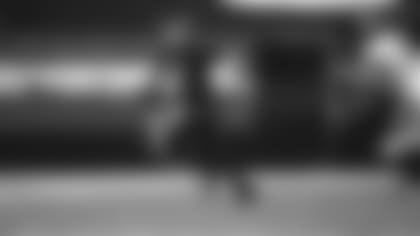 Years have passed and the situation was different, but Sam Darnold on Monday said that it is his hope to return to practice on Wednesday and take snaps on Sunday when the Jets host the Arizona Cardinals at MetLife Stadium.
While playing at San Clemente (Calif.) High School, Darnold sprained his left, non-throwing shoulder. "I don't really remember how much pain I was in or what happened. It was in the left and didn't miss any games."
Now it's the sprained AC joint in his right shoulder that is the issue. And although Darnold left last Thursday's game against Denver to be examined by team doctors in the locker room, he only missed a couple of plays (replaced briefly by the veteran Joe Flacco).
"Once I got hurt, the doctors said I could go back out if I wanted to," he said.
"For me, the most important thing is playing football," Darnold said. "If I can go out there and play and understand the potential risk, the most important thing for me is going out there and playing if I'm able to play and don't make anything worse than."
On the first-quarter play when Darnold was injured, he was sacked and a body slammed by Broncos linebacker Alexander Johnson. Officials could have easily called Johnson for roughing the passer, but did not. Darnold remained in the game for one play before jogging to the tunnel, with his right arm hanging by his side. He returned in the middle of the Jets' next series and stayed in the game the rest of the way during the 37-28 loss. Asked if he thought the body slam should have been flagged he said: "It's football. It is what it is. I held on to the ball too long. I could have run or thrown it away before he tackled me."
After the game, Head Coach Adam Gase refused to criticize the non-call: "It's hard for me to say on the hit that Sam got hurt on. I don't know if it was hard for them [the officials] to tell. He had escaped from the pocket a couple times and got free. I don't know how the officials saw that."
Darnold, who missed time last season as he recovered from infectious mononucleosis said: "I feel good right now, I'm taking it day by day. It keeps getting better, and I'll just see what my progress is come Wednesday [when the team returns to the practice field]." He added: "I think with the way my shoulder is progressing I think it's just kind of whatever, however I feel on Wednesday, we'll see what we do then."
Though Darnold would not, could not predict if he would be under center on Sunday, he proved his value as a competitor when he returned to the Denver game and played through the pain.
"It's just like any other week, I'm getting ready to win a ballgame," he said.
Flags ... and More Flags
The Jets are tied for the league lead (coincidentally, with Sunday's opponent, the Arizona Cardinals) in a statistical category that no team wants to be No. 1 in the NFL in: Penalties.
After four weeks, the Jets and Cardinals have each committed 32 infractions. By comparison, the New England Patriots have committed only 7 penalties for 92 yards. Both figures are the fewest in the league.
The Jets (0-4) have gifted opponents a whopping 335 free yards. The Green & White is tied with the undefeated Buffalo Bills with 6 offensive holding penalties. But perhaps the most costly of those 32 penalties are the 7 roughing the passer calls against the Jets -- the Chicago Bears are next with 3 RP infractions. The Jets also have been flagged for 3 unnecessary roughness penalties, tied with three other teams (Carolina, Detroit and Philadelphia) behind Cincinnati, which has committed 4.
In Thursday's loss to the Broncos, the Jets had nine penalties in the game -- eight in the first half -- all of which extended all four Broncos scoring drives. Two of those penalties were for roughing the passer, one by OLB Terrell Basham and one by DL Quinnen Williams.
"You never want to tell guys to not get to the quarterback, but we have to be smarter and understand the situation," LB Neville Hewitt said during a Zoom call on Monday. "Sometimes you have to back off."
Hewitt added: "We have got to play smarter, it's been the same thing the last few weeks. Penalties have been killing us when we've been playing well. These are things we have to correct. Every reffing crew is different. Some, we think, are bad calls. But sometimes I have to lay off the quarterback after the ball is thrown. You can't hit him."
On Sunday, the Jets will face an Arizona team (2-2) quarterbacked by Kyler Murray, a former collegiate baseball player who was drafted (and signed a contract) with the Oakland Athletics of Major League Baseball. Murray has been adept at scrambling and sliding late, which has drawn a number of roughing penalties.
"I watched his games," Hewitt said. "That's another thing we have to be smart with. We know he's going to slide and we have to come prepared to tackle him, but can't hit him late."
Possible Reinforcements
RB Le'Veon Bell and rookie WR Denzel Mims are both eligible to come off the injured reserve list for this week's game.
Bell injured a hamstring in the season-opening loss at Buffalo while Mims has dealt with hamstring issues in both legs since training camp.
On Bell, Darnold said: "It would be huge to have a guy like that, a playmaker like that. It would be awesome. We missed him the last few weeks."
On Mims, Darnold said: "If he's ready to go and he feels right it would be awesome to have him out there. He's a physical dude, super fast, a good route runner."