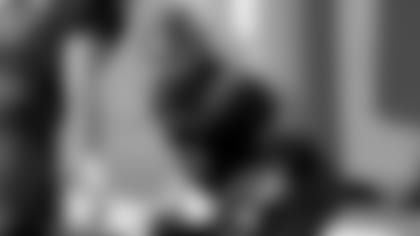 While the initial surge in NFL free agency has come and gone, NFL Pro Days continue at colleges and universities across the country as the calendar ticks down to the NFL Draft in Cleveland beginning on April 29.
Here is a look at four players who recently completed workouts and examinations by NFL general managers, coaches and scouts.
Eric Stokes/CB Georgia
Stokes, who some analysts predict will go in the second round of the draft, certainly did not hurt his prospects.
He clocked 4.25 in the 40-yard dash (and also ran 4.28 in his second sprint). The fastest official 40 time at last year's NFL Scouting Combine was 4.27 seconds by Henry Ruggs III and the best time was 4.22 seconds, set by John Ross in 2017. Stokes also posted a 38.5-inch vertical and 10-8 in the broad jump.
"I pretty much believe I'm one of the best," Stokes (6-0, 194) told the media after his workout. "I'm trying to solidify that I'm not that underrated. I'm athletic, but everything else I'm going to work on. I am going to continue to grow as a player and a person."
Last season Stokes tied for second in the SEC in interceptions (four) and, using his speed, ran back two of those pick for TDs
"I know for a fact that I have to improve my ball skills," Stokes said. "Today, all the speed is great ... but me dropping things that I know for a fact I've [done] over and over again, that's the thing that is going to eat me alive the most. All I'm thinking about is the things that I did not do well today."
Tyson Campbell/CB Georgia
Campbell has a combination of size (6-2, 185) and speed (4.38 and 4.39 seconds in the 40-yard dash) to possibly be selected late in the first round, certainly somewhere in Round 2 of the NFL draft.
"I feel I can run with anybody," Campbell said. "We're football players. We're blessed to have tremendous speed but at the end of the day we want to show people we can play football, too. I'm a dog, I let my play do the talking. I'm competitive."
He opted to declare for the draft after his junior season and has had a healthy, pre-draft competition with Stokes to see who would be the fastest between them.
"In this Pro Day, I was really impressed with Tyson Campbell, with the way he was able to locate and go get the football to go along with that athleticism," said NFL Network analyst Daniel Jeremiah.
Campbell played in all 10 Bulldogs games in the 2020 season, making 20 solo tackles and 1 interception (which he returned 40 yards).
"I could do it all," he said. "Whatever team calls me or drafts me, they're going to get a player that's willing to do anything to help the team. Play outside, play slot. I'm willing to do anything to help the team. I'm confident in my abilities and what I could bring to a team. I feel once I get there they're going to love me."
Quinn Meinerz/OL UW-Whitewater
Meinerz and the Wisconsin-Whitewater team did not play during the 2020 college season because of the coronavirus pandemic.
That does not mean that Meinerz (6-3, 320) was idle before the man-mountain wowed everyone who had a pair of eyes at the Senior Bowl (where he sustained a broken hand during practice) in February and the school's Pro Day earlier this month. More than three-dozen scouts attended his Pro Day workout when he was timed at 4.86 in the 40 with a 10-yard split of 1.73 seconds. His short shuttle was timed at 4.47 seconds and his three-cone was timed 7.33 seconds. He touched 32 inches on the vertical jump and 9-3 in the board jump.
Even though Meinerz (who has been nicknamed the Mighty Quinn) has become an Internet sensation with his training video in Canada, there is more substance than hype to this aggressive blocker who played 33 games for the Warhawks, mostly at left guard. Whitewater (a small city between Milwaukee and Madison) is one of those Division III schools that has consistently punched above its weight, having made 10 appearances in the past 15 years in the Stagg Bowl, the national championship game, winning six times.
He has been called a "below-average athlete," though his strength and understanding of schemes have helped this relatively raw prospect to use his strength to bully opponents. A beast in the run game, questions linger about his ability to pass protect at a level of competition much higher than he's experienced up to now.
Josh Imatorbhebhe/WR Illinois
In a game obsessed with numbers, do numbers mean everything. Maybe not in the case of Josh Imatorbhebhe. His eye-popping jumping ability and size (6-2, 220) make him an intriguing prospect at wide receiver.
During Pro Day last week in Champaign, IL, Imatorbhebhe (pronounced ee-MAT-or-BAY-bay) unleashed a vertical jump of 46.5 inches (even more impressive in slo-mo). Though the height is unofficial in the absence of the NFL Combine, the leap would have topped the 46-inch record set by North Carolina safety Gerald Sensabaugh in 2005.
Imatorbhebhe spent the last two seasons at Illinois after transferring from USC. He has been the Illini's No. 1 wide receiver for two seasons, catching 55 passes for 931 yards and 12 TDs. He had 33 receptions for 634 yards and 9 touchdowns in a breakout year in 2019.
"You are getting somebody who gives all they got to all they do," he told the Stampede Blue blog on SBNation.com. "Someone once asked, what does it take to be successful? I believe all it takes is all you got. I don't feel like there are any shortcuts and I'm someone who certainly doesn't take any shortcuts in life. I give everything I have to everything I do and whatever is asked of me, I'm gonna do it.
"I'm somebody who wants to compete and somebody who wants to dominate, if I'm being honest. I just bring a different type of energy to the game. Off the field, you are getting somebody who loves people and loves to connect with people. I just love to get to know people and have their back so yeah, someone who loves people."