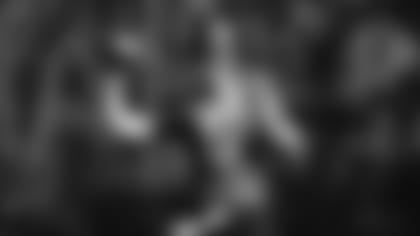 Veteran QB Joe Flacco has played on a championship team and played on struggling teams. At 35 years old, he's experienced the soaring highs and dispiriting lows that are part of life in the NFL.
"The only thing you can do and, in terms of being on teams that have gotten through tough times, is that you have to stay in the moment, tune out the outside noise," Flacco said during a conference call on Monday, talking about the 24-0 loss at Miami on Sunday. "It's a lot harder to go out every week in practice. It happens to a bunch of teams every year, but the NFL doesn't stop playing games because you're going through a tough time."
Flacco and the Jets (0-6) were under heavy pressure from the Dolphins defense most of the game. Flacco was sacked three times -- including a 28-yard loss that took the team out of field-goal position -- and was hurried throughout the game.
"At that point in the game, it was 24-0 and I'm trying to make a play," he said. "As dumb as it was I'm not sure that one play is going to alter the game so much. I definitely could have gotten rid of the ball quicker. There's always going to be plays you look back at, especially the sacks where I could have gotten rid of the ball sooner."
Whether he remains the starter next week against visiting Buffalo, the leader in the AFC East, or is replaced by Sam Darnold, Flacco said that there is nothing to do but keep going, keep plugging away.
"It's tough to look at some things right now and say we are making progress," Flacco said. "We're not on the same page in a lot of things and we're not playing well enough to stay in games. We have to focus on little things, really it is just truly little things. Not anything that is this big fix, just everyone coming together and doing basic things at the same time. What offensive football is you can't have one guy make up for 10. Everyone on the field has to be on the same page and firing on all cylinders."
GVR, His Dad and the Jets
OL Greg Van Roten can feel the pain of being a Jets fan -- ask his dad.
"My dad has been a Jets fan for 58 years," said Van Roten, a native of Rockville Centre on Long Island. "I've only played the game for nine years. As frustrated as the fans are, I'm more frustrated than you."
He added: "This is my job. I get paid to play football. I love this game. I want to go out and play a perfect game every week. I have a short window to do this. This is a year of my playing life that's not going the way you want it to go. You have to remind yourself that this is your job, find a way to stay positive and block out that noise. Play your best game next time because eventually there won't be a next time."
Gase on McLendon Trade and Injuries
Nose tackle Steve McLendon, 34, is expected to be reunited with the Jets' former coach Todd Bowles (again a defensive coordinator) after the veteran defensive lineman was traded to Tampa Bay after Sunday's game at Miami.
According to multiple news reports, the Jets will send McLendon, one of the team's captains, and a seventh-round draft pick in 2023 to the Buccaneers for a sixth-round pick in the 2021 NFL Draft. The trade remains conditional until McLendon passes a physical.
"It's something that evolved over the weekend," Head Coach Adam Gase said on Monday. "It's an opportunity for him to go compete at a place that's challenging to get into playoffs [Tampa Bay is 4-2]. We know it wasn't an ideal situation for him, leaving this group where he's put so much into this team. He's been a great leader for us. It does give our young guys more opportunities. It's the kind of thing where both sides thought this was the best thing to do. We felt like it was the right thing to do."
McLendon was in his fifth season with the Jets after playing his first six seasons with the Pittsburgh Steelers. The trade leaves Jordan Jenkins, a third-round pick in 2016, as the longest-tenured member of the Green & White. The decision to trade McLendon came less than a week after the team released RB Le'Veon Bell, who subsequently signed with Kansas City.
McLendon played 24 of the Jets' 56 snaps on defense on Sunday, finishing the game with 4 tackles. He had 14 tackles in six games this season.
"It's a business," CB Pierre Desir said. "He was a leader every day. He came to the game and played his heart out. He does that every week. We're going to miss that type of leadership. In this business, nothing surprises me."
The Bucs were seeking a replacement for Vita Vea, the team's 347-pound nose tackle who sustained a broken ankle against the Chicago Bears.
On the injury front, Gase said that QB Sam Darnold (shoulder) "keeps progressing"; rookie OT Mekhi Becton (shoulder) is continuing to rehab; rookie WR Denzel Mims (hamstring) will get an increasing number of first-team reps when practice resumes on Wednesday; an ankle injury will limit S Matthias Farley in practice; Alex Lewis has multiple shoulder issues; and Chuma Edoga, who left Sunday's game with a calf injury, will be evaluated all week.
Jetcetera
The Jets have been outscored, 114-29 in the first half of their six games this season, though the defense did hold Miami to only 3 points in the second half on Sunday. ... Rookie punter Braden Mann had six kicks on Sunday for 462 yards and also made what was likely a TD-saving tackle. It was the second time this season Mann has taken down a punt returner. ... WR Jamison Crowder, who had over 100 yards receiving in his first three games, was held to 48 yards on 7 catches.