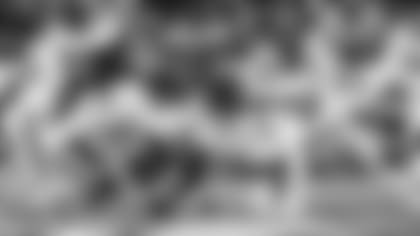 Jets head coach Robert Saleh said any clarity on who the starting quarterback would be against the Miami Dolphins, the team's opponent at MetLife Stadium in Week 11, would have to wait until Wednesday.
Asked during his press conference on Monday if rookie Zach Wilson would start if healthy, Saleh said: "It's a fair question. I promise I've been digesting so much stuff this morning, I haven't had a chance to get to the quarterback stuff. I'll have a better idea on Wednesday."
Wilson has missed three full games, and most of a fourth, after sustaining a PCL (posterior cruciate ligament) strain in his right knee at New England on Oct. 24. Mike White, his backup, finished the game against the Patriots, put in a historic performance in the win over Cincinnati, was hurt (nerve contusion in his right arm) in the loss at Indianapolis, and then threw four interceptions in this past Sunday's loss to the AFC East-leading Buffalo Bills.
"I'll have a better feel for things later today," Saleh said. "We'll see where he is mentally and physically. We haven't gone through a full injury update."
The Jets (2-7) did their film work on Monday, will have Tuesday off and will return to practice at the Atlantic Health Jets Training Center in the middle of the week to prepare for the visit by Miami (3-7). The game against the Dolphins, the first of two this season, will be the Green & White's fourth against a division opponent after two losses to the Patriots and one to the Bills.
Saleh said that White's performance on Sunday did not alter his opinion of the fourth-year QB.
"I still have a lot of confidence in Mike," the coach said. "It's fascinating. He was anointed as the next coming, and now everyone wants to throw him away. Did he play well? No. Is he capable of being better? Absolutely. Give their defense credit. They've been together four years, credit to them. I haven't lost faith in Mike at all."
Frustrating losses the past two weeks have not been easy for Saleh, his players or Jets Nation to take.
Did he have a message for Jets fans? After emitting a deep sigh, Saleh said: "It is. I'm just as frustrated as everybody else. My promise is that this thing is going to flip. Support is always warranted, criticism is always warranted. You reap what you sow and I know in my heart that this thing is going to flip. Sometimes you have to go through struggles to seek glory."
He added: "God put you on earth to deal with your life because you're strong enough to do it. I'm doing something I've dreamed of doing my entire life. Like all fans I'm frustrated, but I've not lost the big picture. When it turns it's going to be awesome."
Elijah Moore: 'Can't Stop'
After missing two games earlier in the season, rookie wide receiver Elijah Moore has found his footing and his comfort zone.
"I'm just getting more comfortable, getting more opportunity," he said on Monday. "You can't look at the game like I'm a rookie. That's old. It's time to get going. I think that probably happened in the New England game [6 targets, 1 reception; a 19-yard end around for a TD].
"The only way you get to showcase is based on opportunity," he said. "When more opportunities started coming my way, the more that comes the more I get to show."
Over the past three games, Moore has 16 catches for 195 yards and 3 TDs. The diminutive speedster out of Ole Miss is convinced the Jets can turn things around in the final eight games of the 2021 season.
"As a man, why would I not think that?" he said. "Everything I do is in a positive aspect leaning toward the best interests of my team. The more you think negative things the more it will go that way. Once you speak out of positivity, positivity comes back. I have no worries it won't go in direction. It's only a matter of time until we get the details fixed and execute. That's really all it is."
Jarrad Davis: 'We Have to Dig Ourselves Out'
The Jets' defense again gave up 40+ points for a third time in the past four games. Linebacker Jarrad Davis, signed in free agency, said that the frustration is shared by all of the Green & White's players.
"From Day 1 being here, coach Saleh is a very calm person, but it doesn't take away from his drive and determination," Davis said. "He doesn't need to get angry to know he's frustrated. We all have to learn how to use that energy and frustration to make something good. We're in a hole and we have dig ourselves out of it. We can beat ourselves up, but that takes up time. It's very tough. It's easy to be on top, super easy to be on top in the front and going out every Sunday and winning. It's super easy. The challenging part is when things are not going your way it seems like nothing's working."
Davis said that he's eager to be part of a winning team, a winning organization after having played in challenging situations at the University of Florida, with the Lions for three seasons and now with the Jets.
"I haven't won a lot of games in the NFL," he said. "For me, sometimes it feels like I don't know what a winning organization feels like. At a certain level, when in those weeks we do win, it feels familiar. It's a feeling I haven't had in a long time. I've been around it, I've been in it. I didn't win a lot of games at Florida or in Detroit. Yeah, I won in high school. Sometimes I feel like I don't know what winning looks like. It's hard to describe."
He added: "It's why it's called a team. You have to lean on the guys next to you. You have to check yourself on every little piece, because on Sunday those things you're not sure about are going to show up."
Jetcetera
Rookie cornerback Bradin Echols sustained a quad injury on Sunday and will be out 3-to-5 weeks, head coach Robert Salehsaid. ... Javelin Guidry, who replaced Echols against Buffalo, will likely get the call against Miami. ... Second-year offensive tackle Mekhi Becton is not likely to practice for another 1-to-3 weeks, Saleh said, as he "works through a few things."
"He's a very, very large man on a knee, everyone heals differently," Saleh said. "It's just taking a couple of extra weeks. He's a big body, a big human, but I'm confident he'll make [it back] this season. He's working relentlessly. It's not from a lack of effort. He's going through rehab and attacking it how he knows how."