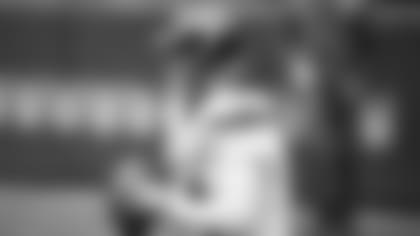 Those two simple words from Jets' Head Coach Adam Gase on Monday punctuated his defense of QB Sam Darnold.
"Going back watching this game [Sunday's 40-3 loss at Seattle] it's frustrating to see, especially early on in the game, that there were a lot of things he's doing, doing the right things but we're having breakdowns around him," Gase said on a conference call. "This game, just looking at this, it's frustrating to see him turning the ball loose on time, going to the right place, making the right decision. We've just got to help him."
The Jets (0-13) did not score a TD in a game for the third time this year. For the seventh time in nine starts Darnold did not surpass 200 passing yards and he has failed to throw a TD pass in five games this season, including Sunday. Darnold has missed four games because of a shoulder injury.
"[When the numbers aren't good] who's going to get the blame? The quarterback and the coach," Gase said. "We've got to figure out ways to make plays, not only for him. When he goes to the right place at the right time we can't have those hiccups. I'm not saying he played perfect, but we need everyone to do his job. We didn't take advantage of anything."
Against the Seahawks, the Jets started the game smartly, with Darnold leading the offense on a 9-play, 48-yard drive to open the game. Sergio Castillo hit a field goal and the Jets had points on an opening drive for the seventh straight game -- a franchise record.
Darnold was 14 of 26 for 132 yards against Seattle in the face of a formidable Seahawks rush. He was sacked three times, hurried at least a handful of times and avoided turnovers despite a couple of errant tosses. And unlike the game against Las Vegas, the Jets running attack was held to 69 yards on 23 carries.
"I'm not worried about any speculation or what others are saying outside our locker room," Darnold said. "My worries are about playing good football down this stretch. One day and one game at a time."
Asked if can foresee a long-term future with the Jets, Darnold said: "Yeah, I believe in myself as a quarterback and as a player in this league. That decision isn't up to me, but I'm always going to believe in myself and have enough confidence in myself to go out there and play good football on Sundays.
"I love it here. I love the people around here. I love living here. I've always said I want to be a Jet for life, but that decision is not necessarily up to me."
Gase reiterated that no single player, particularly Darnold, succeeds or fails on his own.
"It's not just him, it also has to be the guys around him," Gase said. "Everyone has to do their job, linebackers, running backs, wide receivers. He [Darnold] can make the right decision on reads, but he can't catch it and make the guys be in the right spots. He's the easy guy to blame. Need 11."
Ballentine Proved a Spark
Corey Ballentine has only been with the Jets for a little more than one month (he was claimed on Nov. 11 after being waived by the Giants), but he has made a positive impact as the team's explosive first-choice kick returner.
On Sunday at Seattle, Ballentine fielded a kickoff and returned it 66 yards, the longest return for the Jets so far in the 2020 NFL season.
"Really, everything happened so fast," Ballentine, 24, said after the game. "I saw the hole, made a couple of cuts and then saw the kicker and in my head I couldn't let myself be tackled by the kicker. So I cut inside and I was stumbling because he nicked my leg. After that I saw nothing but green. I tried to pick up my knees, but it was harder than I thought it would be. I ended up getting out of that, saw someone on the right, swerved left and saw someone on my left. I have to thank the guys who blocked. They did a great job."
In his three games with the Jets, Ballentine, who was born in Montego Bay, Jamaica and moved to Kansas when he was 6 years old, has returned 7 kicks for 208 yards, an average of 29.7 yards per return.
Ballentine, a cornerback, was drafted by the Giants in the sixth round of the 2019 draft. He said that he's been impressed by the good vibes in the Jets' locker room amid a winless season.
"I definitely could see that everyone is really close with an emphasis on having good energy and picking each other up when things don't go our way," he said. "We want to turn it around by picking each other up. You're not going to win games by beating up each other. I like that we're talking and communicating, trying to improve individually and as a team."
Travel Itinerary
There were expectations that the Jets, who again play on the West Coast on Sunday (at the Los Angeles Rams), would stay out West after facing Seattle. Those plans, however, changed late last week when Gase and team officials decided the team would return home between the games in Week 14 and Week 15.
With issues surrounding the coronavirus pandemic and the prospect of players spending an overwhelming amount of time sequestered in a hotel, Gase opted to make the cross-country trips instead.
"It's hard enough when we're home, the last thing we need to do is create an insane asylum at some hotel," Gase told NorthJersey.com.
The trip to LA will be the Jets' third game this season on the West Coast (at Chargers, Seattle and the Rams) and the team overall will have played seven games against Western teams, the other four (49ers, Broncos, Cardinals and Raiders) at home.
Speaking about the prospect of two coast-to-coast trips in a matter of days, LB Neville Hewitt said: "Recovery is going to be very important, hydration and being stretched, and things like that. Get your legs back under you. We need the nutrients to perform at a high level."
Injury Update
Adam Gase said that CB Saquan Hampton sustained a torn ACL against the Seahawks and is out for the season. ... WR Denzel Mims has cleared the coronavirus protocol after attending to personal matters and will be available to face the Rams. ... Jamison Crowder, who had been listed as questionable with a calf injury, warmed up before kickoff in Seattle and said he was good to go. He had 2 receptions for 7 yards in the game. ... Gase said that LB Jordan Jenkins (shoulder), who did not play in Seattle, would be evaluated through the week. ... And RB La'Mical Perine, who went to injured reserve on Nov. 24 with a high ankle sprain, and K Sam Ficken, who has missed time with a groin injury, could both be ready for Sunday's game. Ficken's stand-in, Sergio Castillo, missed 3 of 4 field-goal attempts against Seattle.