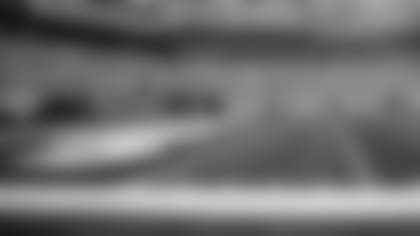 The 2021 offseason began with a bevy of virtual interviews in an extensive search for the Jets' new head coach. And the Green & White are not alone. Including the top coaching gig at One Jets Drive, seven NFL teams are in the market for a new head coach.
With General Manager Joe Douglas leading the open, search and casting a wide net, the Jets have conducted nine virtual interviews -- and conducted an in-person interview with much-sought-after 49ers defensive coordinator Robert Saleh -- 10 days after the conclusion of the Jets' 2020 NFL regular season. Saleh, 41, met with Douglas, CEO Christopher Johnson and team president Hymie Elhai. Saleh, however, is also coveted by several other teams.
Each team seeking a new coach (a list that includes the Jets, Jaguars, Texans, Eagles, Falcons, Lions and Chargers) can interview candidates, but cannot meet in person or float a job offer until their teams have completed their seasons. Four of the men (Chiefs offensive coordinator Eric Bieniemy, Bills offensive coordinator Brian Daboll, Rams defensive coordinator Brandon Staley and Saints secondary coach Aaron Glenn) the Jets have interviewed work for teams that will play this coming weekend.
As of Wednesday, the Jets have also interviewed the Bengals former head coach Marvin Lewis, Panthers offensive coordinator Joe Brady, Colts defensive coordinator Matt Eberflus and Titans offensive coordinator Arthur Smith.
The Jets are among the most appealing landing spots for a potential head coach. The team has a strong core of young players, has two first-round picks in the 2021 NFL Draft (and two in the 2022 draft), as many as nine picks in April's draft, and more than $70 million in cap space.
CEO or Offense/Defense Guru?
A big-picture guy or a specialist?
A chief executive or a nuts and bolts guy with a focus on one side of the ball?
The Jets CEO -- Christopher Johnson -- was asked if he is seeking a CEO to coach the Jets.
"I don't much like the term CEO either, but it does describe what we're looking for," Johnson said the day after the Jets informed Adam Gase he would not return. "We want a head coach that coaches the entire team, end to end, and his staff. You don't have to be offensive, you don't have to be defensive, this is a coach for the entire team and that's very important to us looking forward."
Of the coaching candidates (all with NFL experience) so far interviewed by the Jets, one is a former NFL head coach (Marvin Lewis) while four work on offense and four work on defense.
On offense: Brian Daboll (Bills offensive coordinator), Eric Bieniemy (Chief OC), Joe Brady (Panthers OC) and Arthur Smith (Titans OC).
On defense: Robert Saleh (49ers defensive coordinator), Matt Eberflus (Colts DC), Branden Staley (Rams DC) and Aaron Glenn (Saints secondary coach).
Jets Connections
New Orleans defensive backs coach Aaron Glenn and Buffalo's offensive coordinator Brian Daboll each have Jets connections -- Glenn as a cornerback (1994-2001) and later a scout, and Daboll as quarterbacks coach (2007-8).
No. 31 in green and white, Glenn, 48, has been on the staff of Saints Head Coach Sean Payton since 2016. He was drafted 12th overall by the Jets out of Texas A&M in 1994 and was with the Jets for eight seasons, making the Pro Bowl twice. After his time with the Jets, Glenn played for Houston, Dallas, Jacksonville and New Orleans.
Daboll, 45, has worked the past three seasons with Bills QB Josh Allen, who has been one of the driving forces to Buffalo's return to the postseason and the team's first playoff victory in 25 years (last weekend over the Colts). After working under Nick Saban (Michigan State) and Bill Belichick (New England), Daboll joined the former Patriots assistant Eric Mangini in 2007 as the Jets' quarterbacks coach.
After stints with Cleveland, Miami and Kansas City, Daboll was reunited with Saban at Alabama in 2017 as the team's offensive coordinator and quarterbacks coach. The Crimson Tide won a national championship during his tenure with freshman QB Tua Tagovailoa.
Saleh's Backstory
In a curious way, the Jets potential hiring of Saleh would bring the Dearborn, Mich., native full circle in the New York/New Jersey metropolitan area.
On Sept. 11, 2001, Saleh's brother David made his way from his office out of the World Trade Center to safety. His brother's harrowing experience and the horror of the day prompted Robert Saleh, who is of Lebanese descent, to leave his job at a bank and begin a football journey that has made him one of the hottest head-coaching candidates in the NFL.
Saleh, a Muslim and Arabic speaker, is believed to be part of a very small list of coordinators of Arab ancestry in NFL history. After 9/11, residents of Dearborn, which has been an attractive destination to Arab immigrants for years, were vilified, an Arabic center was the target of a bomb threat and the players on his high school team were targeted with racist taunts.
"After 9/11, those kids couldn't recover," Saleh told Sports Illustrated in 2017. "The racial backlash they faced, I don't know if you can imagine it, but for a kid to go through what those kids went through was not fair."
He added: "Unfortunately, the perception of our culture and of Arab-Americans who were born in this country and worked tirelessly to assimilate, goes unnoticed. And all some people can see is what they think they know from what they see on TV. One bad apple spoils them all, fair or not."