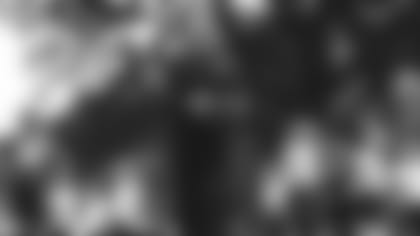 Jets defensive coordinator Jeff Ulbrich got an early look at his potential corps of linebackers, but now -- after almost a month on hiatus -- it gets real with the start of training camp next week. Ulbrich, however, did like what he saw during voluntary OTAs and mandatory minicamp.
"Just a ton of growth as far as we started with culture and then we laid the foundation of the scheme and I would be hard pressed to acknowledge one guy or another," Ulbrich said of the entire unit. "It was a collective thing, I thought the group was just extraordinarily hungry for learning and growth in every way. Technique, scheme, knowledge of the game, but from a group standpoint there was a lot of growth. I can't necessarily point out one guy."
With the switch in schemes from a 3-4 to a 4-3, Ulbrich and his staff believe they have a strong foundation with the return of C.J. Mosley and the addition in free agency of Jarrad Davis. Mosley is expected to be the focal point as he returns after nearly two years away from the game; while Davis (a former first-round draft pick of the Lions) can kick-start his career.
"You got two very established guys in C.J. and Jarrad," Ulbrich said.
Beyond those two "established guys," Ulbrich and the Jets will be in a deep discovery phase in training camp. Blake Cashman is thought of highly, but has been dogged by injuries during his two seasons in the NFL. The identity of that third starter is to be determined, though Ulbrich has been encouraged by the early displays of two draft picks who played safety in college-- Jamien Sherwood (Auburn) and Hamsah Nasirildeen (Florida State).
"These young cats, they're exciting," Ulbrich said. "They're long, they're fast, they're instinctual. Jamien Sherwood, I've been around a lot of rookies as a player and coach, he's unique in the way that he has absolutely picked up the finite details of this defense already. His ability to command the defense, run the huddle, make the adjustments, make the checks, the calls, the whole thing, very exciting.
"And then, Hamsah has a different level of anticipation and instinct that rookies don't normally have, to go along with both guys being long and athletic. It's an exciting group, it'll be fun to watch those young guys grow and try to find spaces for them to play this season and contribute."
Opportunity, Competition and Talent in Defensive Backfield
It would not be inaccurate to call the situation in the Jets' defensive backfield fluid -- specifically at cornerback. At safety, veterans Marcus Maye (playing this season on a franchise tag) and Lamarcus Joyner, signed in free agency; are joined by second-year player Ashtyn Davis.
Marquad Manuel, the defensive backs/safeties coach, said that he sees Joyner as the slot safety in a nickel defense because of "his experience in the league [with the Raiders] and his ability to play man."
Manuel said that Davis, who did not participate in OTAs and minicamp as he continued to work his way back from a foot injury is "like a gym rat, he wants to know everything." He added: "Playing in this league, any opportunity you get to watch you can learn more. You get to slow down the game and be able to see a lot more. I hope he learns from the coaching part and is able to apply it when he comes back to play."
The rookie Michael Carter II, drafted as a cornerback, is also in the mix at nickel back, according to Tony Oden, the senior defensive assistant/cornerbacks. "We want to fine-tune one position, and right now it's nickel," Oden said. "He's doing a good job with that, he's a good communicator, a hard worker. He has value in other positions where we have other guys competing."
Right now, it is a dynamic mix at cornerback with holdovers (Bless Austin, Javelin Guidry, Bryce Hall and Lamar Jackson; plus Justin Hardee, who was signed in free agency) and promising draft picks (Jason Pinnock, Carter II and Brandin Echols). Oden said he embraces the challenge of working with a young cornerbacks room.
"I look at it the other way -- some of the challenges are experience things that you can only learn through games," he said. "I look at it as a positive, there are young guys to mold who do not have a lot of battle scars, not a lot of things to unlearn. I look at it like clay, we can mold them. I look at it as a positive because they're young and eager, trying to improve and do it the exactly the way we want them doing it. You can see the progression of doing it the way we want, the Jet way, the Jet way 2021."