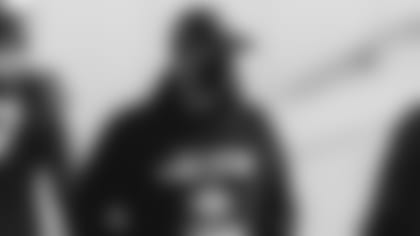 Hours after the Jets officially parted ways with Gregg Williams, Head Coach Adam Gase addressed the decision during his opening statement on a conference call with reporters.
"This morning we relieved Gregg Williams of his duties as defensive coordinator," Gase said. "I just felt like it was the best thing for our team. Organizationally, we had discussions this morning and felt it was the best move to make."
Asked during Monday's call who made the decision, Gase said: "I did."
The decision to dismiss the well-respected Williams came after his call for an all-out blitz that resulted in Derek Carr hitting Henry Ruggs with a game-winning TD pass with only 5 seconds left on the clock in the Raiders 31-28 victory. Last season, Williams  coordinated a unit that finished finishing seventh overall.
"I just felt like it was the best decision for our team," Gase said. "Gregg and myself talked for close to an hour this morning. Obviously he wasn't happy, like most of us are when this happens. But that's our profession. All of us in this profession, we've all been in that situation when we've lost our jobs."
Gase took ultimate responsibility for not stepping in to call a timeout before the play went off.
"Obviously I wasn't happy about that call and that was a heartbreaking way for our guys to lose a game," he said. "For that to happen in that situation, we just can't have that happen. I mean wish I would have [overruled the call]. Sometimes during a game you're talking through situations that come up. I wish I had called timeout, but I didn't.
"The head coach can tell guys what to call whenever they want. That's part of the gig. I have not. I hired Gregg because I trusted him to make right calls and run the defense."
Finally, Gase came to the defense of rookie CB Lamar Jackson, who was beaten on a double-move on the Raiders' last, pivotal play.
"I feel like Lamar has done a great job in every aspect," Gase said. "He has a short-term memory, which you have to have at corner. I've seen guys get beat and go in the tank. He's had some good moments, and some experiences he has to learn from. I expect him to bounce back, that's the kind of kid he is. I expect him to bounce back from this."
Darnold Hasn't Lost Competitive Edge
QB Sam Darnold was in the training room with a couple of teammates Monday morning when they received the news of the coaching change on defense.
"All of us kind of were just taking it in, we didn't know what to think of it," Darnold said. "Again, it's just something that's above my pay grade. I'm not going to sit here and talk about why he was let go. I was in the training room and we were able to take it in together."
The loss against the Raiders on Sunday, and the manner in which it happened, overshadowed the way in which Darnold marshalled the offense in the fourth quarter, scoring 15 unanswered points and positioning the Jets to win their first game of the season after 12 straight losses.
"It's not fun, losing sucks," Darnold said. "It's just as we always say -- there's winners and there's losers, it's a part of the game. At the end of the day you don't ever envision yourself losing this many games in consecutive order. It's tough again, we're all dealing with it together. When we all go in the building we all go to work, we see each other and we have time to talk. It helps. But it's tough. To not win at this point in the season, you never envision it as a player, a coach, or any part of the organization. We have to do all we can to prepare ourselves and put us in a good position to go out there and try and win a game."
On Sunday, Darnold had -- like the entire team -- an up and down game. It began with a pair of first half TD passes to Jamison Crowder. It devolved into an interception and two strip-sack fumbles. Then the late rally that proved to be for naught.
His hope tank continues to be full.
"As competitors, as pro football players we're not built like that," Darnold said. "We're just going to compete down to the end, that's all we know. We're going to keep on competing, bringing our best every single day to practice, to meetings,. Just go out there and try to win. That's all we know how to do."
Fatukasi Looks Ahead
Folorunso Fatukasi's reaction to the coaching change was short and to the point: "Look, the call is the call, the play is the play, and what's done is done. Guys went out and played as hard as we could. The coaches coached as hard as they could. At the end of the day, we lost."
Now, facing the balance of the season under Frank Bush, the interim defensive coordinator, Fatukasi -- an emerging presence on the line -- said that he and his teammates must try to take things in stride and focus on the next game.
"With Frank Bush and the rest of coaches, we're all confident they will approach this work like they all have. Approach with details, trying to make our defense stronger. I don't see anything different in the way we're going to approach each week.
"He's a person, just like throughout the year like all the coaches have been, they have the same attitude -- they want us to get better, help us understand the game -- that approach is not going to change. They all have great positive attitudes. Now it's a matter of OK, how do we prepare for next week."
Injury Update
In reporting the team's injuries after Sunday's game, Gase said that three players – RG Greg Van Roten (toe), S Bennet Jackson (hamstring) and S Ashytn Davis (foot) -- could all be out for the rest of the season. LB Jordan Jenkins is also dealing with a shoulder injury, which will take a few days to evaluate ahead of the game at Seattle.