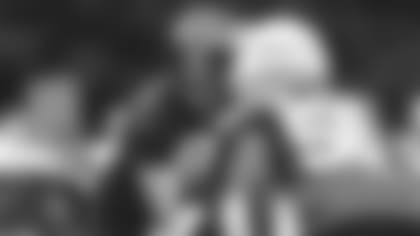 In Episode 2 of HBO's documentary series "Hard Knocks," the cameras turned their focus on one of Jets quarterback Aaron Rodgers' quiet obsessions -- he likes to squat down and grab tufts of grass and either toss them into the air to see the direction of the wind or roll over the vegetation in his palms.
Some of his teammates, standing on the sideline, can be overheard trying to figure out what it was all about. At one point, "Hard Knocks" showed a clip of Rodgers in his No. 12 Green Bay Packers uniform rubbing a clump of grass in his palms. Asked about it, Rodgers said that during cold-weather games in northeastern Wisconsin, he felt the practice helped him have a better grasp of the pigskin.
While Rodgers has been able to do his thing with the grass during training camp at the Atlantic Health Jets Training Center, that won't be the case on the new artificial turf surface at MetLife Stadium on Saturday night against the Giants, or at several other venues on the Jets' 2023 season schedule. He joked that he might just try tossing the turf's rubber pelts in the air. And although he played on the heated grass surface at Lambeau Field, Rodgers said he's got no problem playing on the plastic stuff -- especially since a new playing surface has been installed at MetLife.
"I've had some good games on turf over the years," he said this week. "You know, most of that was indoor stuff in Detroit and Minnesota, but I'm a fan of grass for sure. Got to admit that I like wearing seven studs and playing on grass, but I feel like the field [at MetLife] is supposedly the newest and the greatest.
"There's obviously been a lot of conversation around grass fields compared to turf fields, but I feel like the other night [in the preseason game against Tampa Bay, though he did not play] that it was one of the best surfaces I've seen that's artificial. I don't feel like we had any of those, you know, non-contact issue injuries, so that was good to start off the season, and it's our surface, so we're going to enjoy it. I've always felt a little bit faster on turf, so I do look forward to that."
O-Line Is Coming Together
LT Duane Brown is back on the field after undergoing offseason shoulder surgery. So is RG Alijah Vera-Tucker, after sustaining a season-ending triceps injury in Week 7 at Denver and missing a few practices this summer with an ankle ailment. RT Mekhi Becton, coming back from knee injuries that cost him two seasons, could earn a starting spot at RT. LG Laken Tomlinson (calf) also returned to practice this week and is expected to line up next to C Connor McGovern in Saturday's preseason finale.
After missing four games early last season, Brown powered through, earning his teammates' respect for playing through injury in every snap in 11 games (he missed the finale at Miami).
"He's a hard worker, for real," linebacker Quincy Williams said. "Leading a running back down the field, so if a running back goes on for 10, he's leading them all the way. Big energy guy. I call him an old head. It's just like he's an older guy [Brown turns 38 on Wednesday] and he's a leader on the team also, and he actually helps the defense also with the keys, so that's real big for us, with just experience and all that stuff."
AVT, who has yet to play in the preseason, is expected to take snaps with the first-team offense against the Giants.
"Obviously, I think it's reps during practice and on top of that, mental reps as well, in walkthroughs or meetings and I feel like we definitely know how to do that as players in the league," he said. "It's just getting those mental reps in, so basically been doing that, and like I said, when you have a guy like Duane over there and Laken [Tomlinson], two real vets on that side, they've been playing the game for a long time, so it shouldn't be too hard for them and for everybody else, like I said, just mental and physical reps"
No. 8 on Breece Hall: 'He Has Elite Speed'
On Tuesday, Rodgers was asked about RB Breece Hall and his potential impact on the Green & White's offense.
"I mean, I said that the difference between [preseason games against] Carolina and Tampa [Bay] was 17 [WR Garrett Wilson] being on the field and I feel like the difference that we've seen when Breece is on the field is also substantial," Rodgers said. "He's just a different speed, and we had a play in the move-the-ball period last week where I just kind of drew something up in the dirt. It's something that we have and something we'll get to at some point, but with kind of four verticals and him split out, run a one-step slant, and he caught it and hit 21-plus miles an hour and he just looks like he's cruising.
"Now we had a guy in Green Bay, who had a similar running style. As far as he was super-efficient, [Ahman Green], you know when he was running, nobody ever really caught him and it didn't look like he was going that fast, and watching Breece, he might not look like he's going that fast, but nobody catches him. I mean he has elite speed and he also has got a big old hind end, and you know, he's put together pretty well for a running back, so I love having him, having them out there.
"He's a smart guy. I was testing him. He's been out most of the training camp and the first time he was in there, just to mess with him because he's always given me you know, guff and ripping me about everything from my looks to my age or whatever, so he was in there and I said 'I'm going to test this young cat,' and he was real sharp on all the adjustments and check downs and everything, so I gave him credit for that. He seems to be a pro."
Hall confirmed last week that he and Rodgers have been engaging in some good-natured ribbing.
HC Robert Saleh said recently that he hopes to have Hall available for the regular-season opener against visiting Buffalo on Monday night Sept. 11.