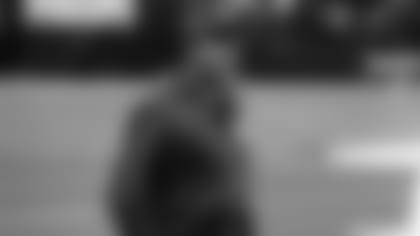 The football world today is mourning the passing of legendary coach Chuck Knox, and that includes members of the Jets family who remember Knox's contribution to the early years of the Green & White and the development of franchise icon Joe Namath.
Knox, who died Saturday at the age of 86, is remembered as the successful head coach of the Los Angeles Rams, Buffalo Bills and Seattle Seahawks, but he got his start as an American Football League coach on Weeb Ewbank's first Jets staff in 1963.
Ewbank needed an offensive line coach and he plucked Knox, then 31, out of the college ranks, where he had followed up his Juniata College playing career with coaching stints in high school and then at Wake Forest and Kentucky.
Knox soon became a supporting player in the Joe Namath story. Despite his espousal of the running game, which later earned him the nickname of "Ground Chuck," he lobbied Ewbank and Jets owner Sonny Werblin to try to grab Namath, the Alabama QB, in the 1965 AFL draft. Knox became aware of Namath when he was coaching high school ball in western Pennsylvania and Namath was first wowing fans at Beaver Falls HS outside of Pittsburgh.
"I pushed Weeb very hard to take Joe," said Knox in Mark Kriegel's 2004 biography, Namath. And after the draft, Knox said, "They knew Joe Namath was going to make the difference, and we had to be able to protect him." So he began coaching up a line that by 1966 included, from LT to RT, Winston Hill, Sam DeLuca, John Schmitt, Dave Herman and Sherman Plunkett. Three-fifths of that line — Hill, Schmitt and Herman — went on to start in Super Bowl III two years later.
Unfortunately, Knox did not accompany the Jets to Miami. He left to coach the Detroit Lions' O-line in '67 and missed out on what would have been the only Super Bowl ring of his career.
But Knox did pretty well by other measures. He moved on from the Lions to become head coach of the Rams in 1973 and guided LA to five 10-win seasons, five playoff appearances and three consecutive berths in the NFC Championship Game from 1974-76. In '77, he coached Namath to the final four starts of his career when Joe finished his playing days with the Rams.
He then coached the Bills for five seasons and led them to the AFC playoffs in 1980 and '81. Next game nine seasons as the Seahawks' field general, with four more playoff berths and one AFC Championship Game appearance in '83.
Finally came three more seasons back with the Rams from 1992-94 before retiring with a regular-season record of 186-147-1 and a playoff mark of 7-11. He was named NFL Coach of the Year in 1973, '80 and '84.
Included in his more than two decades as an NFL head coach, the Jets posted a 6-10 record against their former OL coach, most notably the 31-27 loss to Knox's Bills in the 1981 AFC Wild Card Round at Shea Stadium.
Knox, who earned his degree in history at Juniata and thought long and hard about teaching there before deciding to head into coaching, in 2005 donated $1 million to his alma mater to endow a chair in history. He has two stadiums named in his honor, at Juniata and at Quaker Valley HS in his hometown of Sewickley, PA, is a member of the Seahawks' Ring of Honor, and was listed among the 108 modern-era nominees for the Pro Football Hall of Fame Class of 2018.
He is survived by Shirley, his wife of 65 years, three children and six grandchildren.