Shortly before midnight Saturday, hours after he was drafted by the New York Jets, Mark Sanchez boarded a plane at LAX with his family and took a seat next to his mother.
"We were sitting next to each other and we were in first class," Olga Macias said. "I was like 'Whoa!' It was my first time in first class. And he said, 'Mom, it's so awesome.' "
The plane took the Sanchez party across the country and into JFK on a picturesque Sunday morning. They arrived at the Atlantic Health Jets Training Center and took a tour followed by an introductory news conference, a few television spots and a couple of brief hellos with the coaching staff before departing for Manhattan and SportsNet NY and Radio City Music Hall.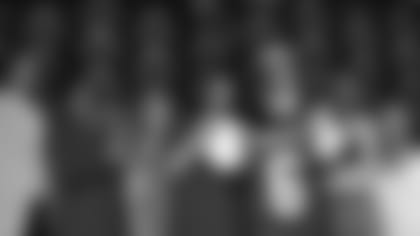 And while Mark completed a multitude of interviews in the city, his contingent — consisting of his mother, Olga; father, Nick Sanchez; stepmom, Maddy Sanchez; brothers Nick Jr. and Brandon; sister-in-law, Paola, and nephew, Nico — patiently watched and supported.
"It's been a busy time, but it's been a really exciting time," said his father as he sat on a couch inside the Radio City green room. "It's been a joyous time, a wonderful time."
The new Jets quarterback was blessed with a good foundation. You need only to speak with his family for a short time to see that they're a tight unit.
"That really is an understatement," said Nick Sr. "I made a comment to Coach [Rex Ryan] and Mr. [Woody] Johnson and made a very similar statement to Coach [Pete] Carroll at SC years ago when they had recruited Mark and Mark had signed a letter of intent there — that they didn't gain one player, they took on a whole family."
As the youngest of the three sons in Los Angeles, Mark Sanchez learned to be competitive from the get-go.
"We were three boys who were beating the tar out of each other," said Nick Jr., 36, who played QB at Yale, earned his law degree from Southern Cal, and will help represent his brother. "It's just kind of natural that things happen that way. You suffer some adversity and get torn up a little bit."
The Sanchez boys — Brandon, a mortgage broker, who played O-line at DePauw, is the middle brother — learned from a father who has been a fire captain for the Orange Country Fire Authority the past 33 years. A retired army sergeant and community college quarterback at East Los Angles, Nick Sanchez got his boys into athletics at an early age.
"That's all I knew. I grew up that way, it was my life," says the man who knows every nook and cranny at the L.A. Coliseum because he used to spend weekends there as a kid watching SC, UCLA, the Chargers and the Rams.
"Just through osmosis, him being around me and watching and enjoying all these different sports ... it really didn't give them much of an option. They were somewhat enveloped in those activities whether they wanted to or not initially, and later on they found a love for many of the sports and it kind of developed to where we are today."
In Pop Warner football, Mark Sanchez played various positions, including fullback, tailback, tight end, linebacker and nose guard. But football was just one of the many activities the boys participated in. With the importance of education stressed as well, there wasn't much downtime in the Sanchez house.
"We weren't allowed to have video games," Nick Jr. said. "By design we didn't have time to do a lot of other things. It was football, basketball, baseball — I played soccer one year. Mark did a bunch of things, too — even karate when he was a little kid. We didn't have a lot of extra time and when we did have extra time, you were so darn tired that all you did was take a nap."
At Mission Viejo High School, Mark Sanchez not only led the Diablos to a 27-1 record and a state title as a starter but he also excelled in school with a 3.7 GPA and served as the student government president. He was one of the most coveted recruits in the country and ultimately decided to stay close to home and play for Carroll and the Trojans.
Instilling the Intangibles
After redshirting in 2005, Sanchez didn't become the Trojans' true full-time starter until 2008. While leading USC to a 12-1 record, he threw for 3,207 yards and 34 TDs and much of his '08 campaign has been documented. But Carroll is famous for turning up the heat in practice and Sanchez thrived when the temperatures rose.
"Mark would get so intense and so pumped up," Nick Jr. said. "He would tell Coach Carroll, 'You have to coach up the DBs because I'm smoking them out there and you have to do some work out there.' Then Pete would talk back, send a blitz off the edge and they'd get him."
In separate interviews, both Maddy Sanchez and Nick Jr. described Mark's personality as infectious. The Jets fell in love with him at his private workout largely due to his smarts and his personality.
"It just naturally comes across that this guy is having fun playing this game. He is so competitive. He wants to win and just is fired up and intense," Nick Jr. said. "I think other players appreciate that and feed off that, and I think that's part of it. I wouldn't say he's a rah-rah guy but after an extra point he's coming off the bench and giving five to the kicker or patting the center on the butt. It's just an extra point right? Shouldn't he be on the phone or something like that? He loves being around the guys."
You hear the word "intangibles" thrown around often when people talk about Mark Sanchez. And that's not by accident because all of the Sanchez boys were held to a high standard throughout their childhoods.
"These guys have always been placed into a position of leadership," Nick Sr. said. "You talk about intangibles and it encompasses so many different things. My wife [Maddy] and I have really attempted to promote them doing all those little things, being of good character, being good workers, being honest and being very, very courteous and having a tremendous amount of respect for others and those things around you.
"Some people would feel those have nothing to do with athletics or sports, but I beg to differ with that. I think that falls right into that. I think those are the intangibles, those are those leadership qualities and those are the qualities that allow an individual to be able to compete at their highest level when they're under their most adverse conditions."
A communications major who is scheduled to earn his degree from USC on May 15, Sanchez has masterfully dealt with the media less than week into his NFL career. His first Jets minicamp is this weekend and you can bet there will be a plethora of national outlets in Florham Park, N.J., focused on the man wearing No. 6.
"I've been on a few other campuses throughout the country over the years after practice," Nick Sr. said, "and at SC there were 25 news reporters on the field and that was every day, rain or shine. They were always faced with that and I think it enabled Mark to sharpen his skills, get a little bit better at what he did, and I think that's going to work to his advantage here."
The Sanchez family knows expectations will be high from Jets Nation, but Mark is well prepared to deal with the New York area. His family always set the bar high and he is leaving one of the most prestigious college programs in history.
"SC has won seven Pac-10 championships in a row," Nick Jr. said. "If you are going to play under such high expectations, you have to be ready to deal with that and the fans won't expect anything less. To a much greater degree, you're walking into that here. You're expected to win and the team is expected to perform well. He has a big challenge, but he loves that. He loves working hard and trying to do everything he can to come up with a win."
After talking with practically everyone at Radio City, Mark happily returned to his family in the green room. Away from the television sets and the reporters, it was just back to Mark and his family.
He sat down on a chair and began to wrestle with his small nephew and it was difficult to determine whether the 22-year-old man or the 2-year-old kid was enjoying himself more. Nobody looked fatigued as they flashed competitive grins and battled for an upper hand, and it all made sense in that moment.
Mark Sanchez is delighted that he can fly first-class with his family, but he only earned this elevated position due to a blue-collar, dogged and humble approach. And with a strong family as his backbone, that doesn't figure to change.