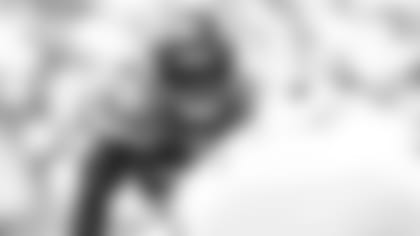 Justifiably, Luke Falk's rapid 24-hour promotion from the practice squad to the Jets' indefinite starting quarterback has garnered a lot of attention, but Neville Hewitt's similar ascension from backup Will linebacker to starting at the Mike shouldn't go unnoticed.
"Early on, [LBs coach Frank Bush] told me I had to start learning the other positions and I ended up learning it and had to play that position," Hewitt said. "It's been interesting, but it's an opportunity that I prayed for a long time ago and it ended up happening. Now it's here, so I'm going to make the most of it."
After Avery Williamson went down with a season-ending knee injury against the Falcons Aug. 15, Hewitt became the starter at Will. Just more than three weeks later in the season opener, starting Mike LB C.J. Mosley exited early with a groin injury after knocking a pass away intended for Bills WR John Brown.
"When it happened, I didn't even know he was hurt," Hewitt said. "I didn't have the headset yet, so we were calling the play and I'm looking and I didn't even realize C.J. was out of the game. Then I see [Blake] Cashman coming in and I end up making the call."
The fifth-year player has settled down nicely after being thrown into the fire as he ranks second on the team with 12 tackles and leads the Jets with two sacks. The biggest adjustment for Hewitt has been the amount of communication since he was a senior at Marshall when he last started at Mike linebacker.
"I'm used to the role and last year I had to play a little bit of Mike as well," said Hewitt, who started the final four games for the Green & White in 2018. "I know at the Mike you have to be very vocal and it's pretty natural for me. I don't really speak much throughout the day, so when people see me start making calls and talking a lot, it kind of surprises them at first."
The 6'2", 234-pound backer has been in a similar pinch-hitter-turned-starter situation with the Dolphins in 2016 when he stepped in for an injured Jelani Jenkins and never relinquished the starting role. But this year, Hewitt will gladly shift back to the Will once Mosley returns.
"He finds the ball and the ball finds him. It's pretty cool, man," Hewitt said of his partner. "He's a hell of a football player and a tackler. I have a high motor, so I'm trying to knock somebody out. It's cool because he might make a big play or I might make one.
"He makes things a lot smoother because he's the Mike. It's something he's been doing for a long time. It might be something here and there he might say to me that might help and I might say something to him that might help. We work together."
While many have written the Jets off at 0-3 and a tough slate immediately ahead, Hewitt has seen this movie before. The 2016 Dolphins, then coached by Adam Gase, started the season 1-4 before clinching a playoff berth after winning 10 of their next 11 games.
"We're going to be all right," he said. "Some of the injuries that we've had, you wouldn't even imagine. You might think a few guys may get hurt, but the injuries and some of the stuff that we've had to deal with, you wouldn't imagine having to go through that. I've played for Coach Gase before and this isn't new to him.
"We're going to flip it around. We're going to get our pieces back."