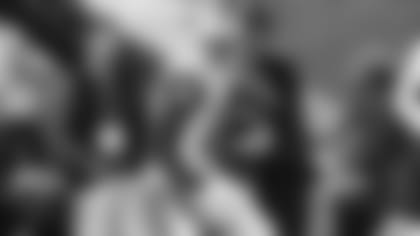 How's that for starters? The Jets' record-setting 48-17 dismantling of the Lions in front of a national TV audience epitomized what it means for a team to excel in all three phases of the game. You hear that term so much that it's almost become cliché, but the offense, the defense and the special teams all had a hand in this one. Here are a few takeaways:
Play it Again, Sam
All eyes would be on how Sam Darnold would fare in his NFL debut. After all, he was the youngest Week 1 starting QB since the AFL-NFL merger. Debuting on the road, in a loud building and on Monday Night Football no less. Things didn't start off as planned with that pick-six to Quandre Diggs on the first play from scrimmage, but Darnold would shake off the nerves and show the promise that have had the Jets and their fans salivating for the last several months. Take away that INT and a stat line of 16-of-20, 198 yds, 2 TD's, 0 INT is not too shabby. I liked hearing him say postgame that it's ok to enjoy the win for one night, but then the focus is on to Miami and Week 2.
Welcome Back, Q!
After missing all of 2017, Quincy Enunwa made a triumphant return to the Jets lineup on Monday. Enunwa hauled in 6 passes for 63 yards including a 21-yard catch-and-run to the end zone. The physicality he brings to the receiver position creates matchup problems for the defense and Enunwa serves as a safety blanket for a young QB. I've been saying all summer that the depth at wide receiver is one of the more overlooked areas of this team and they aren't getting the recognition they deserve. Once Jermaine Kearse returns to the lineup, this group has a chance to do some damage.
"Special" Teams
Tip your cap to Brant Boyer's unit. The special teams may have had its best game of the Todd Bowles era. Who would be the Jets punt returner? It was a question that seemed to drag on all summer, but Andre Roberts left little doubt he was the guy with a marvelous performance on Monday, highlighted by a 78-yard TD return (the first for the Jets of any kind since 2012). How about Jason Myers booming eight kickoffs, none of which were returned? Myers displayed the strong leg that has impressed the team since he arrived. Lachlan Edwards pinned a pair of punts inside the 20-yard line as well, making Lions All-Pro returner Jamal Agnew a bystander.
Pressure
Sometimes stats don't tell the entire story. If you check the box score, the Jets didn't record a sack last night. But the pressure generated by the front seven was instrumental in Monday's triumph. The defense pummeled the Matt's (Stafford and Cassel) all night long, forcing them into errant throws that resulted in five interceptions. Henry Anderson was bearing down on Stafford when he threw the pick-six to Darron Lee.
Darron Lee
The third-year linebacker from Ohio State played his best game in green and white. A lot was to be asked of Lee this season, absorbing more responsibility within the defense. If one game was any evidence, the game has slowed down for Lee, allowing him to play faster. Afterwards he noted the film study and preparation for this game was the best he's ever been a part of.
Proceed with Caution
Jets fans should be excited, thrilled, overjoyed, or whatever term you want to use to describe last night's triumph. It was a phenomenal opening statement. However, it was still just one game. All it means is that the Jets are guaranteed to go no worse than 1-15 and that is something I'm sure Todd Bowles will preach to the team all week. Now the challenge is to build off this game. I said on our postgame show last night that this game reminded me a bit of the 1997 season opener. It was Bill Parcells' first game as head coach and the Jets destroyed Seattle on the road, 41-3. They followed it up in Week 2 by losing the home opener to a mediocre Bills team, led by Todd Collins. The Dolphins will be waiting on Sunday. It's a rivalry game and all bets are off with rivalry games. I've seen enough Jets-Dolphins clashes in my life to know that to be true.