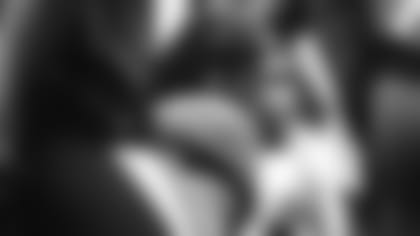 The offseason wedding of the younger Jets' Williams brother, Quinnen, was the conclusion of his life as a single man, but the beginning of a different kind of commitment, according to the elder Williams brother, Quincy.
"He had his wedding [in Miami] and it was a great party with family and friends," Quincy Williams said. "Then right after that he locked himself into football. His mindset switched and it also switched my mindset as well. The message was kind of don't worry about that last play. I know people preach that, don't worry about yesterday, just get better today."
For Quinnen Williams, that shift in focus meant concentrating on improving his fitness ahead of his fourth season in the middle of the Jets defensive line. For Quincy Williams, it's been more of an adjustment in focus, especially since the arrival this week of veteran linebacker Kwon Alexander, signed as a free agent.
Now, keep in mind that Quincy Williams had an outstanding year for the Jets in the 2021 NFL season. Plucked off the waiver wire by GM Joe Douglas, Quincy was a revelation playing next to C.J. Mosley. After being cut loose by Jacksonville, he played in 16 games (13 starts) for the Jets, finishing second to Mosley with 110 tackles (73 solo), many of the crunching variety.
And the arrival of the vocal and enthusiastic Alexander has already had an impact.
"The first thing Kwon brought is a boatload of energy," Quincy Williams said. "It's the energy and he's also been in this scheme longer. On the first day [this past Monday] he came and talked to me. He said he was watching me and that he had some key details to help me.
"He came to me as a brother, with a few little tips to help me out. Coming right in and helping me see the game faster. He said: 'You're a baller and these details can help.' I appreciate it, for real."
Quincy Williams emerged last season as an important, hard-hitting partner for Mosley, a fact not lost on defensive coordinator Jeff Ulbrich.
"Quincy is a guy that's emerged in that way [as a leader], whereas last year I wouldn't have told you that," Ulbrich said. "He didn't have a voice, but now he's finding a voice, he's finding his own authentic leadership style."
That "style" can only be enhanced by playing in the same linebacking corps as Mosley and Alexander, with help from second-year players Jamien Sherwood and Hamsah Nasirildeen, plus Del'Shawn Phillips.
"We're going to be scary," Williams said about the Green & White linebackers. "We're all on the same page in the meeting room. We hear each other so we can flow off each other. It's going to be a beautiful thing."