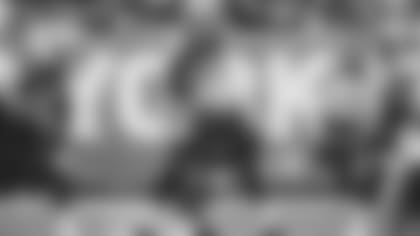 When James Carpenter's 58-game start streak ended Sunday against the Patriots because of a shoulder injury, the Jets played their third different line combination in 2018 with Spencer Long at left guard and Jonotthan Harrison at center.
"During the week some time, coaches mentioned that might be a possibility," Harrison said of the lineup changes on Inside the Jets with Eric Allen and Erik Coleman. "They told me to prepare as if I was going to the start the game. I felt like we had great chemistry on the line on Sunday and despite the results of the game, I think there was growth in certain areas."
Sunday marked the 6'4", 300-pounder's third start this season and Long, who has started nine games at center, played his first game at guard since 2015.
"It's like having two centers," Harrison said. "We understand everything that's going on, which makes communication very easy. We sit next to each other in the meeting room, so we're always chit-chatting, going back and forth about what we're watching on film, so communicating with him was quite simple. We didn't skip a beat."
Long told reporters Monday he thought he played pretty well considering he only practiced at guard three times over the past three years. Perhaps his best play came midway through the third quarter as the 6'5" 318-pounder pulled and unloaded on Patriots cornerback Jason McCourty to clear the way for RB Isaiah Crowell's 12-yard gain.
"He was licking his chops for that play. He was waiting for that play to get called," Harrison said. "I missed what actually happened and I looked up on the jumbotron and was like, 'Dang, Spence.' He really laid into that dude. That's what gets an offense going and brings energy into the huddle."
Like most linemen, Harrison enjoys teeing off in the run game, especially in offensive line coach/run game coordinator Rick Dennison's zone-blocking scheme. The fifth-year veteran likes that he can use his speed in Dennison's scheme especially on outside zone plays. Last year, Harrison displayed his athleticism in Week 16 against the Chargers when he led the way down the sideline on a Bilal Powell 57-yard touchdown run (see tweet below).
"I love the zone-scheme," Harrison said. "He (Dennison) does a great job of coaching the zone scheme, making sure everyone understands the assignments of the tight ends, the path of the running back and which players you're supposed to hit. He really emphasizes the learning of the run game and the zone game and I think it helps us build as an offensive line. It makes being able to plug and play that much easier."