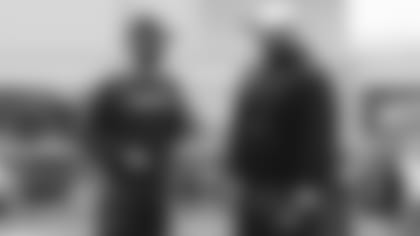 Collaboration is a big part of general manager Joe Douglas' recipe.
In Douglas' season-ending press conference, he said that no decision would be made unilaterally despite his having final say over the roster. As coach Adam Gase and Douglas enter their first offseason together, they're looking through the same prism.
"After going through a season of personnel meetings and listening to the coaches talk about players whether it's training camp, in season, end-of-season meetings, you develop a feel for what each coach looks for and things that they really like about players," Douglas told Newyorkjets.com's Eric Allen at the NFL Scouting Combine.
Gase added: "It starts with personnel and coaching all being aligned and then it trickles down to the players. When they feel that, they just focus on what they need to do to win the game."
When asked about the symbiotic relationship between Gase and Douglas, NFL Network's Daniel Jeremiah, who worked with Douglas in Baltimore as a scout, said he recently spoke to an NFL head coach who presents "basically a menu" to the scouts that illustrates the traits they need at each position.
"I don't care how gifted your coach is or how gifted your GM is, if you're not on the same page, you're not going to be successful," Jeremiah said. "To me, that's hugely important. Those guys have a relationship going back to Chicago, they had a chance to know each other and what they value is huge. I think that's what the great relationships have."
NFL Network reporter Steve Wyche used, as an example the 49ers, who brought in both head coach Kyle Shanahan and GM John Lynch in 2017. After a pair of 4-12 seasons, San Fransciso represented the NFC in Super Bowl LIV after going 13-3 in the regular season. Wyche then provided a faux conversation between Shanahan and Lynch.
We want these types of players, we don't want these types of divas, we want to have this many veterans in each room and this many young people, etc.
"The fact that they're so coordinated, you look at the roster they have now, they're going to be in play for years," Wyche said. "I think that's the importance of Gase and Douglas having that type of relationship with what they can do long-term in New York."
Jim Nagy, who is the Executive Director of the Reese's Senior Bowl and an ESPN draft analyst, was most recently a scout for the Seahawks from 2013-18 before moving to Mobile. Nagy used his former stomping grounds as an example of what a transparent relationship between head coach and general manager looks like. Coach Pete Carroll and GM John Schneider were both hired in 2010 and have a .628 winning percentage (100-59) together. They've missed the playoffs twice in 10 seasons in Seattle (2011, 2017), played in back-to-back Super Bowls in 2013-14 and took home the Lombardi Trophy in Super Bowl XLVIII.
"They absolutely have to be [on the same page]," Nagy said. "I was lucky enough to be in my last situation in Seattle with John Schneider and Pete Carroll. That was a great marriage and it has to be that way. There can't be any fraction, any ego involved. That was the mantra in Seattle: Check your ego at the door. … That marriage is critical and I know those guys are aligned in New York."