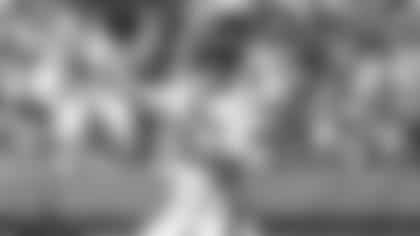 Joe Flacco -- Joe Cool -- the Jets' 37-year-old quarterback on Sunday exhibited a steely determination and serene approach in a desperate situation.
All Flacco did was lead the Jets (1-1) to the Green & White's fourth-best fourth-quarter comeback in franchise history, erasing a 13-point deficit in the game's final 1:55 for a stirring 31-30 win on the banks of Lake Erie.
"It was one small step that moves us forward," Flacco said calmly after first finding Corey Davis for a 66-yard scoring pass on a broken defensive play before the Jets recovered an onside kick, which allowed Flacco to lead the Jets to the winning score -- and 15-yard slant to rookie WR Garrett Wilson with 25 seconds left.
"I like Joe, I love Joe," said Wilson, who caught 2 TD passes, 8 overall for 102 yards, the first 100-yard receiving game of his young NFL career in his return to the state where he played college football, at Ohio State. "The way he goes about business, he understands the way the NFL is. You can tell the way he looks [in the huddle]. When things get frantic, Joe is just walking through there. He's in control and really wants to be on the same page for all of us, especially the younger dudes."
The win was Flacco's first in a Jets uniform, the team's first victory in September after 13 losses and the 25th come-from-behind win engineered by the veteran QB from South Jersey. He spread the ball around to nine different receivers in completing 26-of-44 passes for 307 yards (a 110.7 rating) and those 3 TDs. In his storied career, Flacco has a 18-3 record over the Browns and is 10-1 at Cleveland, with all but one of those victories when he played for Baltimore.
"Joe is 37, he's been in the league a long time and he's seen the best and worst of times," Jets head coach Robert Saleh said. "He knows last week [the 24-9 loss to the Ravens when he was 24 of 59 with a TD and an INT] was not his best game. I trust a guy like Joe, he's been in this league long enough I knew he would rebound, I knew he would take care of the football and give us a chance. Even in their first half, when their offense was freaking good, he kept us going punch for punch. We got the onside kick, and he gave us a chance."
Before that onside kick, performed to perfection by punter Braden Mann (who also completed a pass to Jeff Smith on a fake punt that gave the Jets a first-half first down), the game appeared to be another strong but disappointing performance by the Jets.
Cleveland running back Nick Chubb scored on a 12-yard run, his third TD of the game. But the Browns' rookie kicker Cade Young, who won the game for Cleveland with a late FG last week at Carolina, pushed the extra-point attempt wide right, and Cleveland led, 30-17, with 1:55 to play.
"I don't know where this one ranks, but it's up there," Flacco said. "At one point, I'm sitting on the bench and they have an opportunity to run the clock out. When he [Chubb] scored, I thought OK, that's not what they're supposed to do. Sure they're thinking it's 30-17."
After a short pass to TE Tyler Conlin on the subsequent series, Flacco caught a glimpse of Davis as he eluded both the Browns' safety and cornerback, hit the sideline and turned upfield.
"That play to C.D. quieted the crowd," Flacco said. "I've got to give credit to the guys on the sideline, they kept believing and doing their jobs."
He added: "The safety went back and corner stayed low, the safety was in the middle of the field. It took time to develop, I got good depth and when I threw it I thought 'Oh my gosh.' I see him turn up the field with nobody's anywhere near him. It was a really weird feeling how quiet it got. I almost thought there was a penalty [the Jets took 8 for 57 yards in the game]. It was something I never really felt before, how quiet and the game was not over yet."
Not by a longshot. With the stadium engulfed in an eerie hush, Mann placed the ball on its slide. As he approached the ball, he swiveled his hips to the left and rolled the ball to the Jets sideline, right in front of Saleh. Special teams captain Justin Hardee eventually got control of the ball and the Jets were back in business with 1:20 to play. Last season, less than 20% of onside kicks were recovered by the kicking team.
After an incomplete pass intended for Conklin, Flacco completed another pass to Conklin and one to Michael Carter, moving the ball to the Browns' 27-yard line. Three of Flacco's next four passes were incomplete, setting up third-and-10 from the 15 with 25 seconds left in regulation.
"When Mike [offensive coordinator Mike LaFleur] called the play in my headset, I had a smile," Flacco said. "It's just one of our staples. The safeties played kind of soft and I was trying to get the ball behind the linebackers, it gets you there pretty fast. I was throwing it no matter what, I was going to find some little window to hit him [Wilson]. There was a bit of a window. There's ups and downs in that game, we had a third down where if he doesn't get it hit on back shoulder and he doesn't control it. For him to stay focused and make plays shows his character."
So when all seemed lost, Joe Cool and the Jets ripped up the script to shreds and authored a statement victory.