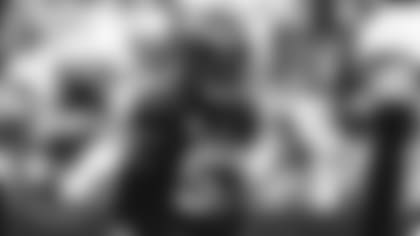 The Jets (3-11) will find themselves in an unfamiliar role on Sunday, favorites in their matchup with the Jacksonville Jaguars (2-12). They'll look to end their three-game slide and extend the Jaguars' losing streak to seven games, but the process will continue to take precedence for a team that will ride its young roster from wire to wire. And it will continue after a chaotic week that saw Jets head coach Robert Saleh and 16 players in Covid protocols.
If Saleh is not cleared by Sunday, tight ends coach Ron Middleton, who led the Jets in practice this week, will be the interim head coach on the home sideline.
"Robert's done a great job of hiring staff, and he's very clear with his plan," said Middleton, who was an assistant coach with the Jaguars from 2013-20. "I'm not reinventing the wheel here, just keeping the ship steered in the right direction. So far, no issues. Hopefully, it stays like that."
The plan, as Saleh likes to say, is "crystal clear" for the Jets as they continue to focus on development.
"Winning is always first," Saleh said. "Always, always first. But it's also not the whole cart in front of the horse thing, right? The process is what takes precedence over everything in terms of verbiage, but make no mistake, we want to win games, we're trying to win these games, we want to get W's, not only for ourselves, but for the organization and the fan base."
After their meeting with the Jaguars, the Jets will host Tom Brady and the defending Super Bowl champion Buccaneers before ending their season on the road against a Bills team that remains in the playoff hunt. Last week, the Jets twice held a 10-point lead against the Dolphins in the first half and they were tied, 24-24, with Miami with under four minutes remaining before the 'Fins scored the game-winning TD.
"I'm very cognizant of all of it, but keeping the main thing the main thing and really trying to find teachable moments whether you win or lose is the main focal point," Saleh said. "Yeah, I want to win these last three games more than anybody, for everyone, trust me on that one. But at the same time, this young group, just to look back at Sunday and the fight that we went through versus a team that's trying to stay in the playoffs, there's a lot of cool things that happened yesterday."
The cool included the rookie Zach Wilson-directed offense scoring on three of its first four possessions and the defense coming up with a pair of interceptions including a pick-6 from rookie CB Brandin Echols.
Back in June, Saleh forecasted bumps in the road and headaches while saying that there was light at the end of the tunnel. With three games remaining, the Jets are one of only three teams with six different rookies to play at last 350 snaps: LG Alijah Vera-Tucker (910), nickel Michael Carter II (734), Echols (586), Wilson (550), WR Elijah Moore (454) and RB Michael Carter (364).
The young Jets defense leads all teams in snaps from rookies and second-year players (4,068) in addition to having the most games started (61). Among all rookie and second-year defenders this season, Echols (7) and Bryce Hall (13) both rank in the top 15 for most pass defenses as the Jets are the only team with two players in the top 15.
Saleh said this week: "Wanting to win and needing to win are different, right? We're eliminated from the playoffs, we want to win football games. Will it change whether we win or lose? Will it change the confidence level or the development that takes place? I don't think that moves the needle much."
What could move the needle for the Jets and the Jaguars long-term are the top two picks in last April's NFL Draft, Zach Wilson and Trevor Lawrence. After missing four games with a PCL sprain, Wilson has hit on 54% of his passes with 5 total TDs (3 rush scores) and 2 INTs while averaging 185 yards a contest. He's also been sacked 15 times, but the Jets believe new experiences like running a two-minute offense down seven late against Miami last week in a 31-24 loss are invaluable.
"I think he's going through a tremendous learning curve and it's one that he's going to be able to capture and run off of it and take with him to the offseason and grow off of," Saleh said of Wilson. "We're really excited about where Zach is and we're really, really confident that his arrow is definitely pointing up and it's only going to get better."
Plagued by organizational instability in Jacksonville with a coaching change and a lack of talent around him, Lawrence has had accuracy issues of late and has thrown 1 TD and 5 INTs in his last seven starts while not eclipsing 230 yards in the air since Week 8. Interim head coach Darrell Bevell handed play-caller reins to former Jets OC Brian Schottenheimer (2006-11) this week and the Jags might be inclined to turn RB James Robinson loose on a Jets rush defense that has scuffled recently. Still Lawrence, taken one spot ahead of Wilson at No. 1 overall, will remain at the epicenter of the Jacksonville rebuild.
"Trevor Lawrence is a very talented young man and he's going to try to use this as a chance for himself to get better," Saleh said. "They've got a really good run game, I'm sure they're champing at the bit to come run the football. There's a lot of things that they're looking at us and saying whatever they want to say, but we've got to strap up, we've got get ready to play football and keep that mindset that we've had with regards to what this time of year means and how you get better and how you separate from other teams."
After a coronavirus run through 1 Jets Drive this week, that mindset won't change regardless who is on the sideline or on the field Sunday.
See the Top Practice Images Leading Up to the Sunday's Game Against Jacksonville