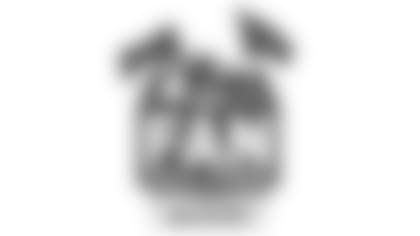 The New York Jets inducted their third class of the Jets Fan Hall of Fame during the first quarter of the team's Week 16 game against the Pittsburgh Steelers. The 2019 class includes John "Cuz" Pagano, Jeanie Ruban and Sean Winters. The New York Jets Fan Hall of Fame is presented by IdentoGO.
Each member of the 2019 class received tickets and pregame field passes to the game as well as a Jets Fan Hall of Fame Member Jacket.
The Jets Fan Hall of Fame is designed to celebrate the ultimate Jets fans and recognize them for their dedication to the organization. Members of the 2017 and 2018 classes were also in attendance to watch the celebration.
About the 2019 Inductees
John "Cuz" Pagano- STH since 1977
Always wearing his flashy trademark green apparel, John "Cuz" Pagano makes his love for the New York Jets known to everyone around him. He attended his first game in 1960 and has remained fiercely passionate and a vocal supporter of the team ever since. Cuz never misses an opportunity to energize the team and his fellow fans.
Jeanie Ruban- STH since 1970
Jeanie Ruban attended her first game at Shea Stadium and has been a season ticket holder for almost 50 years. As an elementary school counselor, Jeanie participates in the Jets STOMP Out Bullying campaign each year, supporting the Jets in her community. Jeanie's children are both Jets fans and she even managed to convert her husband's fandom to the green and white.
Sean Winters- STH since 1991
Sean Winters is best known for his gameday tailgate, featuring his iconic 39-person Jets branded bus. At each Jets home game, Sean and his team feed over 100 fans, cooking on his trademark Jets grill and spreading his love of the Jets to anyone who stops by. This tailgate has become a long-standing tradition for both his family, friends and fellow Jets fans on gamedays at MetLife Stadium.
About the New York Jets Fan Hall of Fame
The New York Jets introduced the Jets Fan Hall of Fame in 2017 to help recognize their fanbase and show appreciation. For the 2019 Class, fans within the tri-state area ages 18 and older submitted written nomination statements of 150 words or less, in addition to photographs. Both self-nominations and third-party nominations were permitted. Jets Rewards members received 500 points for a submission. A blue-ribbon panel of long-tenured Jets personnel selected the three 2019 New York Jets Fan Hall of Fame inductees. The New York Jets Fan Hall of Fame is displayed at Atlantic Health Jets Training Center and At MetLife Stadium during all Jets home games.